As vaccination rates continue to rise and the impact of COVID-19 lessens in Massachusetts, masking requirements are relaxing in the community setting.  Accordingly, BILH is updating our masking and physical distancing requirements for vaccinated personnel in certain circumstances.
Masking
Effective June 1, we are ending masking requirements for vaccinated staff in non-patient facing settings (see definitions below) in accordance with the state's updated mask requirements that go into effect Saturday, May 29, and recommendations from the Centers for Disease Control and Prevention's (CDC).
Given that we care for immunocompromised patients who may be at high risk of acquiring COVID-19, even if they are vaccinated themselves, we will continue to require masking in patient-facing areas, regardless of an employee's or a patient's vaccination status.
BILH encourages all staff who have not yet been fully vaccinated to do so for their own protection and that of their patients and colleagues. All BILH staff can walk in to BILH COVID-19 vaccination clinics – no appointment is necessary and individuals do not need to be a patient of BILH.
Highlights of the new guidance are in the table below. All guidance goes into effect at all BILH hospitals and business units on Monday, June 1. You can read the full guidance – Interim BILH Masking and Physical Distancing Guidance for Healthcare Personnel, Patients and Visitors and Interim Guidance on Return of Students, Volunteers and non-BILH Personnel – on the BILH COVID-19 website.
BILH Requirements for Masking for Healthcare Personnel (as of 6/1/21)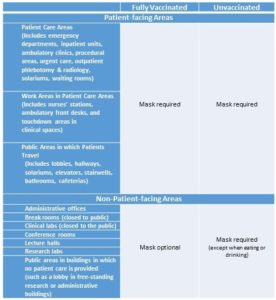 If a vaccinated individual is uncomfortable removing their mask while not knowing the vaccination status of all individuals present, they can still wear a mask. Please note the following important information:
All staff – vaccinated and unvaccinated – must continue to perform daily symptom reporting before reporting to a BILH facility for work.
See full guideline for information on patient, visitor and essential escort masking.
Physical Distancing
Physical distancing is no longer required for vaccinated or masked unvaccinated staff.
Vaccinated staff do not require physical distancing in staff-only spaces to eat or drink.
Unvaccinated staff should maintain physical distancing when unmasked to eat or drink.
Expansion of Non-BILH Personnel
BILH has also updated its Interim Guidance on Return of Students, Volunteers and non-BILH Personnel to include:
One observer at a time is now permitted in clinical areas.
Students and volunteers ages 14-18 are now permitted on campus.
Vendors are permitted on site for patient care, training and essential infrastructure work.
Hiring interviews may be conducted virtually or in-person at the discretion of Human Resources.
Thank you for your ongoing commitment to keeping our patients, their families and our colleagues safe.