Evaluation and Management Coding Best Practices
The evaluation and management (E/M) patient visit is the core of all physician practices.  Physicians and other qualified providers can maximize payment and reduce stress associated with audits by understanding how to properly document and code E/M patient visits.
Evaluation and management services are a category of CPT codes and are used for billing purposes. The majority of patient visits require an E/M code. There are different levels of E/M codes, which, among other things, are determined by the visit complexity and documentation requirements.
Effective January 1, 2019 Medicare allows physicians to document review and verification of any history entered into the medical record by ancillary staff or the beneficiary in lieu of re-entering that information. For established patients only, history and examination already contained in the medical record need not be re-entered. Rather, the physician may document what has changed and pertinent items that have not changed since the last visit.
The basic principles for E/M documentation are as follows:
The medical record should be complete and legible
Documentation should include reason for the encounter, relevant history, physical examination, findings, prior diagnostic test results, assessment, and clinical impression, or diagnosis, plan for care, date and legible identity of the observer.
If not documented, the rationale for ordering diagnostic and other ancillary services should be easily inferred
Past and present diagnosis should be accessible to the treating and/or consulting physician
Appropriate health risk factors should be identified
The patient's progress, response to and changes in treatment, and revision for diagnosis should be documented
The CPT and ICD-10 codes reported on the claim should be supported by the documentation in the medical record
E/M Coding and the Documentation Guidelines: Putting It All Together:
Key components that make up an established patient visit are History (HPI), Exam and Medical Decision Making (MDM). An established patient visit will need to have 2 of 3 key components and must meet medical necessity.
The underlying problem for wrong billing of these services includes the following:
Lack of understanding on how the coding system for E/M works
Inaccurate and incomplete documentation to support the code billed
Supporting medical necessity
Downcoding (documentation supports a higher level service code)
Upcoding (documentation supports a lower level service code)c
Comparison coding and billing for level 99213 and 99214: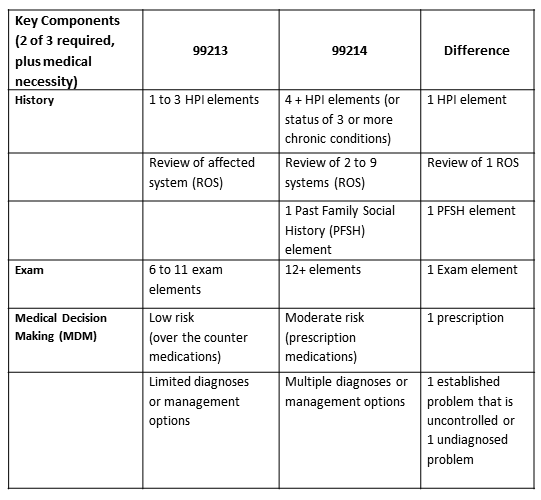 Many providers are consistently undercoding for their services because they have a limited understanding of the rules.  A working knowledge of the E/M coding is the best way to ensure optimal compliance and avoid inadvertent undercoding. Providers who understand the process of E/M documentation can optimize a higher rate of return for their services. If you know how to accurately bill for your services, there is a better chance you will get paid for what you really do.
Changes Coming in 2021
New rules for coding based on time
Code based on MDM alone
New blended payment structure for new and established office patients
New minimum documentation threshold for new and established office patients
New G code for increased reimbursement for primary care physicians
New G code for increased reimbursement for non-procedural specialty care services
New outpatient prolonged services code with decreased time threshold
A great resource for E/M coding guidance is: https://emuniversity.com/2019.html.
Please contact Shawn Bromley at shawn.m.bromley@lahey.org or 978-236-1704 if you have questions regarding E/M coding and billing.