---
PHYSICIAN and PRACTICE CHANGES/UPDATES
---
New Providers
No new providers this month.
Physician/Practice Changes
Effective 4/27/2018, Jason Wu, MD has terminated his affiliation with Sports Medicine North.
Effective 5/18/2018, Arjun Majithia, MD of Northeast Medical Practice has terminated his NEPHO affiliation.
Effective 6/30/2018, Patrick Burke, MD of Beverly Radiology Associates will be terminating his NEPHO affiliation.
Effective 7/1/2018, Sokunthirith Thach, MD of Lahey Health Primary Care, Beverly will be terminating her NEPHO affiliation.
Long time NEPHO member, David Bush, MD a private practice Primary Care Physician, passed away peacefully at home on May 5, 2018.  A celebration of David's life will be held the afternoon of June 9th at the American Legion Hall Post 113, 14 Church Street, Manchester-by-the-Sea, from 1pm to 4pm.
NP / PA Meeting
Speaker: Dr. Kenneth Branton – Pain Management
Date: June 13, 2018 @ 12:00 P.M.
Place: Addison Gilbert Hospital
Women's Health Conference Room
Gloucester, MA  01930
RSVP: Judy O'Leary at Judith.O'Leary@Lahey.org
or 978-236-1739
MD Orientation
Date:  June 19, 2018 @5:30 P.M.
Place: 500 Cummings Center, Suite 6500
Good Harbor Conference Room
Beverly, MA  01915
RSVP: Alycia Messelaar at Alycia.Messelaar@Lahey.org
or 978-236-1784
2018 NECoMG Annual Meeting
Date:  June 21, 2018
Time: 7:00 a.m.
Place: Beverly Hospital Lecture Hall
with video-conferencing to AGH and LOCD
Guest Speaker: Chrissy Daniels, MS from Press Ganey
---
IPA / POD MEETING SUMMARIES 
---
Beverly Hospital  Physical Therapy
Beverly Hospital Physical Therapy colleagues joined the  May POD meetings:
They presented the low back pain initiative including approach to therapy and patient education regarding imaging, maximizing visits, and incorporating exercises at home.
They also shared local functional outcome data compared to national benchmarks, patient friendly hours, and ways to access care for patients.
Data/Reports
Dr. Di Lillo, NEPHO Medical Director, distributed the following reports:
March 2018 and 2018 Year-to-Date OOPHO data by provider;
Q1 2018 Meeting Attendance reports; and
2017 Q4 PCP Report Cards.
Pharmacy Update
Carol Freedman, RPh, NEPHO Manager of Pharmacy Services, discussed the following:
Cost savings opportunities with antidepressant class;
Depression medication adherence measures; and
The new Shingles vaccine, Shingrix, and a comparison chart to Zostavax.
Quality
Liz Isaac, NEPHO Director of Ambulatory Performance Improvement, reviewed a variety of topics related to quality metrics:
The PROM Depression measure –

PHQ-9 Screening  Epic Best Practice Advisory (BPA);
BPA response rate data by ACU and the existing PHQ-9 screening flowsheet in Centricity; and
The goal is to incorporate this as standard rooming practice in all practices.

The Adolescent Well Visit measure –

An analysis of visits that were outstanding in 2017 showed  that more  than half the opportunity was with kids who are not away at college (ages 12-18), as was previously thought.
It was also found that 1/3 of outstanding visits was across Family Practice providers.
Medical Director Update
Dr. Di Lillo updated the group on:
Issues related to the opioid legislation, and
The different smart phrases that can be utilized in Epic to satisfy documentation requirements.
Finally, the first generic combination corticosteroid/long-acting beta agonist (ICA/LABA), fluticasone/salmeterol (Airduo RespiClick) inhaler, is now covered by some commercial health plans and/or affordable for cash paying patients.  The LCPN P & T Committee has voted generic fluticasone/salmeterol (Airduo Respiclick) as the preferred combination ICA/LABA for patients > 12 years old with asthma and as off label use for patients with COPD when affordability is an issue.
Key Points:
NEPHO could achieve about $300,000 in annual savings if 70% of current Advair prescriptions were converted.
Fluticasone/salmeterol (generic Airduo) is not dose-equivalent to Advair formulations. Generally patients should be switched based on Low, Medium and High dosing of current Advair.  See chart below.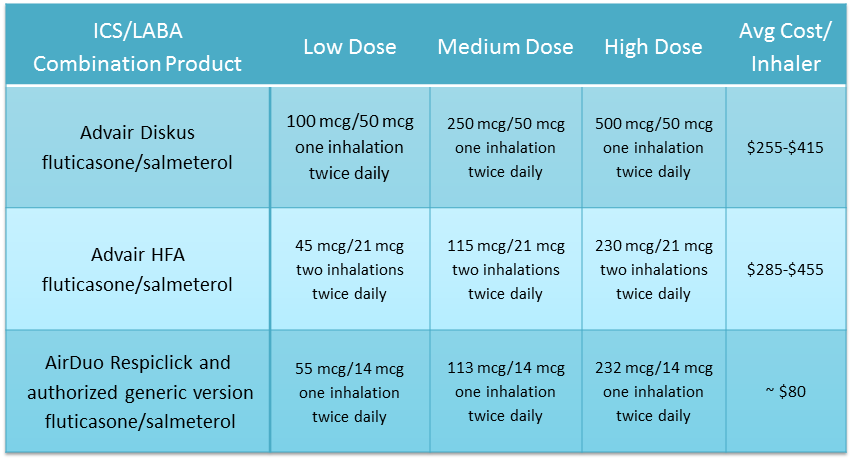 Fluticasone/salmeterol (generic Airduo) is available as a Respiclick inhaler which is different from Advair, available as a Diskus and HFA formulation, so patient teaching will be needed. Click here to watch a  demonstration of RespiClick use.
Cost is about $200 – $300 less per inhaler (~$80 Cash) for fluticasone/salmeterol (generic Airduo) vs. fluticasone/salmeterol (Advair formulations).
Currently, HPHC & Tufts cover fluticasone/salmeterol (generic Airduo) at a Tier 1 copay; BCBS at a Tier 2 copay; Medicare and Medicaid are NOT yet covering this formulation, however patients can use a Good Rx coupon at Walgreens or Rite Aid and pay out of pocket $52 cash without prescription plan use. Patients should check Good Rx or contact their Commercial/Medicare Part D plan for specific coverage.
Epic or GE Centricity: search in the Database Lookup for Airduo and the generic listing for each concentration will be listed.
For questions, please contact Carol Freedman, RPh , NEPHO Pharmacy Manager Carol.Freedman@Lahey.org or 978-236-1774
---
QUALITY
---
Adolescent Well Child Visits in 2018
For the BCBS adolescent well child/preventive care visit (AWC) quality measure last year, 83% (or 1,727 of the 2,076 adolescent and young adults who were due in 2017) had a preventive care visit.
For 2018, the goal is to get 93% of this population to come in for their annual exam (200 more patients than last year).
This is easier said than done in this age group as adolescents don't typically make these appointments on their own nor do they come in independently, to name a couple of factors.
Here are some suggestions to consider to help improve visit rates for this population:
Make use of every opportunity – adolescents who may not come in for wellness visits are likely to still come in at least once during the year for a sick visit. If there is time for an extended visit during the time slot, consider transitioning an acute appointment into a well visit if the patient is due for a well exam.
Schedule a well visit instead of a sick visit when possible – when an adolescent or parent calls for a sick visit and there is no well visit scheduled for the year, consider scheduling the visit as a well visit instead of sick visit, as the schedule allows.
Couple scheduling a well care visit with other patient needs:
Please feel free to call the NEPHO Quality Department at 978-236-1767

 with questions or suggestions.

Build in "checking for last well visit" into everyone's processes – front staff, schedulers, nurses, providers
Adolescent friendly scheduling – think afternoons, end of day, rainy days perhaps?
BCBS – Preventive Visit Billed in Conjunction with Sick Visit
For claims processed on and after August 1, 2018, BCBSMA will include HCPCS codes G0402, G0438 and G0439 as preventive visits in their preventive/sick payment reduction rule. BCBS will apply a 50 percent payment reduction to the lessor allowable value when one of these codes is billed on the same day, for the same member, by the same provider in conjunction with a sick visit code (99201-99215.) This applies when the visits are separately identifiable and appended with the appropriate modifier.
Click here for more details.
---
Tufts Health Plan – Avoid Administrative Claim Denials
Tufts Health Plan wants to help providers avoid administrative claim denials. To prevent denials from occurring, a list of administrative claim denials that providers may receive has been created by Tufts, along with tips on how to avoid them. To view the list, click here.
---
PRACTICE INCENTIVES
---
In April, the Northeast PHO began formally recognizing colleagues who provide a positive experience for our patients, help us keep care local and meet our quality targets.
This month's gift card winners are:
Giana Calcagno

at Lahey Primary Care, Danvers – recognized for her positive patient comment: "Giana the medical assistant is professional & personable – a real delight!"

Liz Chiaradonna

at Lahey Primary Care, Danvers  – recognized for her positive patient comment: "Liz the Nurse is the best"

Jody Gaudet

at Sports Medicine North – recognized for providing timely and convenient access for patients to their high-quality orthopedics team.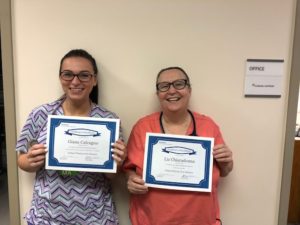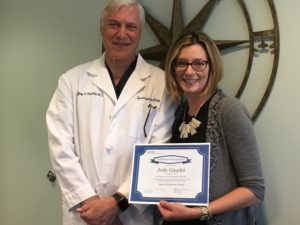 We appreciate their efforts in supporting the PHO goal to provide high quality, community health care.   We will deliver gift cards to the winners each month, and they will be announced here in the newsletter.   Please be sure to look for them!
Telemedicine (also referred to as "e-health," "online health," or "telehealth") is the use of interactive audio and video communications systems to provide real-time communication between a healthcare provider and patient.  The service is conducted over a secured and encrypted channel.  Most health plans now offer telemedicine benefit plans that may be selected by an employer group.
Many health plans partner with a telemedicine vendor for these services.  Members can use a telemedicine tool by web, phone, or mobile app to connect with a doctor or therapist to receive general medical and behavioral health services as well as prescriptions.  Your patients may ask you about these services so we wanted to share this information.
Read more below to see the list of the vendors partnering with the major health plans in our area (and a link to their information online):
Teledoc

Well Connection
Doctor on Demand
LiveHealth
American Well or MDLIVE
Are you interested in providing telemedicine in your practice?
Some health plans added a member benefit to cover for telemedicine services rendered by contracted providers.  If you provide telemedicine services or are considering this option, please contact Alycia Messlaar, NEPHO Manager of Provider and Payor Relations, at Alycia.Messelaar@Lahey.org or  978-236-1784.  Please also see the list of the 3 major Northeast PHO health plans and further details:
Please note the following:
Telemedicine does not include the use of audio only via telephone, fax machine, or email.
Telemedicine services must be provided via a secure and private data connection. All transactions and data communication must be in compliance with the Health Insurance Portability and Accountability Act (HIPAA). For more information on HIPAA and electronic protected health information (EPHI) compliance, please see:http://www.hhs.gov/ocr/privacy/hipaa/understanding/srsummary.html.
It is very important to check the patient's eligibility to confirm coverage for telemedicine services and referral requirements.
The payers require Place of Service (POS) 02: Telehealth and the GT or 95 modifier.
Currently, Medicare restricts coverage for telemedicine services to rural counties and geographic areas that are considered to be a Health Professional Shortage Area (HPSA) or areas outside of a Metropolitan Statistical Area (MSA).
If you would like additional information, please contact Dianne Dobbins, NEPHO Director of Contracting and Operations at Dianne.Dobbins@Lahey.org or 978-236-1704.
---
PATIENT EXPERIENCE COMMENTS
---
BEACON FAMILY MEDICAL CENTER
I love the doctors, nurses and all the staff at Beacon Family Medicine.  Excellent care always!
Jane at the front desk is the best receptionist in any office.
Love Beacon family medicine always timely and all providers are excellent.
CAPE ANN MEDICAL CENTER
Always a very positive visit.  They all are wonderful at CAMC!
CAPE ANN PEDIATRICS
Always a good experience. Dr. Thomas Carbone is very nice, courteous and professional.
CENTER FOR HEALTHY AGING
Dr. Kevin Ennis and staff have been supportive and helpful to me, son of patient, and to my mother – can't thank them enough.
My experience with Dr. Neil Mann has been very positive. He is very compassionate and a problem solver w/medical issues.
LAHEY HEALTH PRIMARY CARE, BEVERLY – 100 Cummings Center, Suite 126Q
These people are fantastic.
LAHEY HEALTH PRIMARY CARE, BEVERLY – 30 Tozer Road
I have been a patient of Dr. Susan Deluca's for many years. She is so knowledgeable thorough caring.  I couldn't ask for a better physician.
Dr. Tina Waugh always remembers me. She listens very well and explains very well too!
LAHEY HEALTH PRIMARY CARE, DANVERS – 480 Maple Street, Suite 204
Excellent service – Dr. Manju Sheth and staff are always willing to help.
LAHEY HEALTH PRIMARY CARE, DANVERS – 140 Commonwealth Ave, Suite 201
Dr. Mauri R. Cohen was very concerned about giving me the best care and concern for my welfare.
LAHEY HEALTH PRIMARE CARE, DANVERS – 5 Federal Street
All staff works well with each other.
LAHEY HEALTH PRIMARY CARE, GLOUCESTER – 298 Washington Street, 4th Floor
Good experience with Dr. Victor Carabba every time I see him!
I'm lucky to have her Dr. Karen Damico is a very caring and special doctor.
GARDEN CITY PEDIATRIC ASSOCIATES
Love Dr. Suzanne Graves and everyone at Garden City!
NORTH SHORE PEDIATRICS
Dr. Lance Goodman is excellent, prompt, knowledgeable and personable.
NORTH SHORE PREVENTIVE HEALTH CARE, P.C.
Dr. Roy Ruff has been wonderful! My condition has improved greatly.  His staff, especially Tara, is outstanding!
PATTON PARK MEDICAL CENTER
Excellent experience with Dr. Michael Edwards and his staff.
SPENCER R. AMESBURY, M.D.
This has been our provider for 28 yrs. We could not ask for better care from Dr. Spencer Amesbury.
ZAVEN JOUHOURIAN, M.D.
I have the utmost confidence in Dr. Zaven Jourhourian!
Dr. Zaven Jouhourian has always been a great help; anytime I had an issue, he is always there to help.