---
PHYSICIAN and PRACTICE CHANGES/UPDATES
---
New Providers
Justin Kaminski, DPM has joined Peabody Podiatry at 6 Essex Center Drive, Suite 208, Peabody, MA 01915 978-531-9969 (F) 978-531-3745.
Marla Rosenfield Darling, MD has joined Beverly Radiology Associates at 85 Herrick Street, Beverly, MA 01915 978-922-3000 (F) 978-921-3534.
Physician/Practice Changes
Effective 6/29/18, Michael Moharan, MD will be opening a podiatry clinic at Addison Gilbert Hospital, 298 Washington Street, 4th Floor, Gloucester, MA 01930 978-283-4000 (F) 856-345-9055.
Effective 6/30/18, Kerry Stevens, MD at Beverly Radiology Associates  will be terminating her NEPHO affiliation.
Effective 7/12/18, Robert Tufts, MD will be opening a sleep clinic at Addison Gilbert Hospital, 298 Washington Street, 4th Floor, Gloucester, MA 01930 978-283-4000 (F) 978-922-5382.
Effective August 2018, Deborah Corson, MD at Beverly Radiology Associates  will be terminating her NEPHO affiliation.
MD Orientation
Date: July 12, 2018 – CANCELLED
Time: 5:30 P.M.
Place: 500 Cummings Center, Suite 6500
Good Harbor Conference Room
Beverly, MA  01915
RSVP: Alycia Messelaar at Alycia.Messelaar@Lahey.org
or 978-236-1784
---
IPA / POD MEETING SUMMARIES 
---
Performance Update

Dr. Di Lillo, NEPHO Medical Director, reviewed the 2017 Commercial Risk Contract Update as of Q4 projections as well as areas of focus for 2018.
Some highlights included:
Loss in efficiency mitigated by quality gains
Cost increases and utilization (to a lesser extent) influenced the increase in TME
Inpatient hospitalizations, outpatient procedures and pharmacy are drivers of cost
NEPHO's risk score is lower than Winchester and Lahey units and decreased by almost 2%
Some areas of focus include budget/risk score accuracy and lowering cost through
continued care retention efforts, improved ambulatory access and patient engagement,
pharmacy substitutions where appropriate
Quality

Liz Isaac, NEPHO Director of Ambulatory Performance Improvement, reviewed an Epic report for the PROM Depression measure.
PROM Depression measure requires follow up of initial PHQ-9 screening scores greater
than 9.
An Epic generated report is available which lists all patients who require follow-up PHQ-9
screening due to an initial score greater than 9.
This report is being distributed monthly to practices for scheduling follow up appointments.
The report identifies date of initial high score; follow-up screening must be 3-12 months
after date of initial high score.
Pharmacy Update

Carol Freedman, RPh, NEPHO Manager of Pharmacy Services, discussed the following related to cost savings opportunity with respiratory medications:
Use fluticasone/salmeterol (generic Airduo RespClick Inhaler) as the preferred inhaled
corticosteroid/long-acting beta agonist combination product for patients 12 and older
with asthma.
Considerations include but are not limited to:

Generic fluticasone/salmeterol is a RespiClick Inhaler
RespiClick directions for use can be found on YouTube
Dosing conversion is not equal; convert based on Low, Medium, and High dosing
Cost is ~$80 per 30 day (Generic Airduo) versus ~$325 Advair
Check GoodRx for cash price (without using prescription benefit)

Screenshots of product selection in Epic and GE Centricity were also reviewed.
Patient Experience Update

Liz Isaac offered a reminder that the Massachusetts Health Quality Partners (MHQP) Survey is ongoing, with patients receiving surveys through the end of July.  This is the statewide survey and the results are utilized by BCBS and other payers to calculate our patient experience score for performance contracts.   Some quick tips from Massachusetts Medical Society Physician Resource Center were shared for reinforcement with practice colleagues:
Avoid forbidden phrases such as "We can't do that", "Just a second" and "No"
Practice essential phone skills

Greet the patient
Avoid mouth noises
Focus on the caller
Don't jump to conclusions
Take notes
End on a positive note

Turn a negative interaction into a positive; for example:

Don't take it personally
Utilize ASAP

Apologize
Sympathize
Accept Responsibility
Prepare to help (Don't offer excuses; focus on resolution)
Prior Authorization
Carol Freedman introduced a pilot aimed at collecting information about the impact of  completing prior authorizations.   A data collection form was distributed, and the practices were being asked to collect the information on the form for at least 2 weeks.
Informational
Physician meeting attendance reports through May 31, 2018 were distributed.
Information and proxy ballot for the 2018 NECoMG Annual Meeting was distributed.
NEPHO Medication Prior Authorization Data Collection Pilot
We are asking for your help so that we can fully assess and address issues related to obtaining medication Prior Authorizations (PAs).
Why:  To understand the impact of completing medication PAs in your practice.
Goal:  To identify resources being utilized and then improve the process.
Background:

Number of drugs requiring PAs continue to increase
Complicated process
Completing PAs manually is labor intensive
Impact on patients:

Patient Satisfaction
Delays in access to medication
Abandonment of treatment
Workflows vary by practice

Ask:  Collect medication Prior Authorization data for a 2-week time period.  Click here to
download the data collection spreadsheet.
Your assistance is appreciated.  Please contact Carol Freedman, RPh, NEPHO Pharmacy Manager
at Carol.Freedman@Lahey.org or 978-236-1774 with any questions.
Summer 2018 "To Do" List
Here is a brief "To Do" list of actions practices should take this summer in order to help maximize their quality score:
Schedule Well-Child Visits and Chlamydia Screens…especially for those college age kids! Blue Cross covers physical exams based on the calendar year not 365 days, so please schedule all patients that are on your PHO patient lists in 2018 even if it has been less than a year since their last physical.
Order overdue HbA1cs within the next month so that medications may be adjusted and patients retested before the end of the year if necessary. The target for Blue Cross is 9.0 or less.
Schedule follow up visits for patients in the Hypertension measure whose most recent blood
pressure is not yet at target. The target is 139/89 or less for all patients, including those in
the Diabetic BP measure, except for non-diabetics over the age of 60, whose target is 149/89
or less.
Schedule pap smears for patients on the Cervical Cancer Screening list.
Offer FIT tests (or Cologuard) to patients in the Colon Cancer Screening measure if they are
reluctant or unable to schedule a colonoscopy.
Evaluate your patients on Asthma Medication Ratio list for appropriate usage and control of their condition. To achieve compliance, the ratio of controller medications to total asthma medications is .50 or greater. Schedule follow up visits and/or issue controller prescriptions
as warranted.
Check your PHQ-9 list of patients to make sure there is a date for follow up screening 3-12 months after the initial high score. All BCBS patients 18 and older with PHQ-9 score greater than 9 have to be re-screened within 3-12 months after the initial score. Both scores need to
be documented in the chart.
Please let us know how we may help and support you and your staff in these efforts.
---
The "Do's" of Acute Bronchitis
The Blue Cross Blue Shield Massachusetts (BCBSMA) AQC measure for treating Acute Bronchitis in adults can be a challenging measure for providers.  Based on HEDIS guidelines, the measure states that patients aged 18-64 who are diagnosed with acute bronchitis (without a competing diagnosis) should not be treated with an antibiotic.  Many patients have preset opinions that they need an antibiotic whenever they have a respiratory illness.  Addressing these opinions and expectations can be difficult. Listed below are some suggestions for successfully treating and coding for acute bronchitis.
DO code for Acute Bronchitis, J20.3-20.9, as appropriate
DO have a conversation about the why, to reduce patient expectation for an antibiotic:
CDC Synonyms for Acute Bronchitis: "Chest" cold, Acute Cough Illness
Majority of cases are viral (>90%), not bacterial, so antibiotics don't work and cases are self-limited
DO address the elephant in the room:
It's not pneumonia (…and this is why it isn't)
DO use OTC script pad (acetaminophen, dextromethorphan, guaifenesin, Nasalcrom etc.)
DO offer a contingency plan if symptoms worsen
For more information on this measure including a list of competing diagnosis codes and
OTC treatment options please contact NEPHO Pharmacy Manager Carol Freedman, RPh at
Carol.Freedman@Lahey.org or 978-236-1774
Tufts Health Public Plans and BMC HealthNet Plan – MassHealth ACO Referral Requirements
On March 1, 2018, MassHealth introduced an expanded selection of health plan options called Accountable Care Partnership Plans (ACPPs) that offer a more coordinated level of care through Accountable Care Organizations (ACOs).  Tufts Health Public Plans and BMC HealthNet Plan partner with some of these ACOs, as noted below with referral requirements outlined.  As you can see, the only THPP and BMC products that require a referral are:
Tufts Health Together with Atrius Health
Tufts Health Together with BIDCO (Beth Isreal Deaconess Care Organization)
Tufts Health Together with CHA (Cambridge Health Alliance)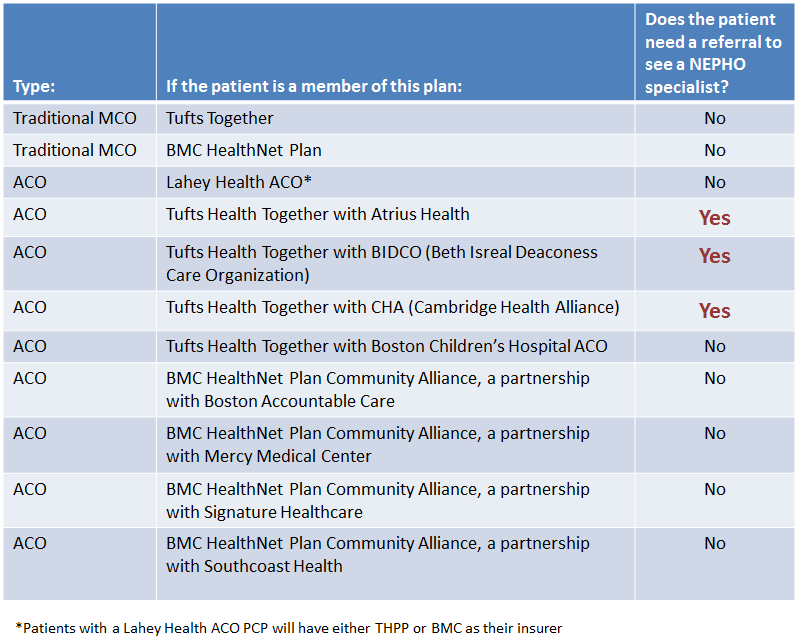 This change does not affect members who receive MassHealth coverage through One Care plans (such as Tufts Health Unify), and PCPs should continue to see these members as they did prior to the March 1, 2018 ACPPs implementation.
BCBS – Partially Denied Claims
When providers need to make changes to a partially denied claim, remember to submit a replacement claim, just as you do for a fully denied claim.  As of July 1, 2018, BCBSMA will no longer adjust claims to make these changes for providers.  BCBSMA asks that providers do not send supporting documentation, such as Provider Detail Advisory (PDA), with the replacement claim.  It will cause the claim to suspend and delay processing.  Click here to view the complete notification from BCBSMA.
---
HPHC – Prior Authorization No Longer Required for Cologuard Test
Effective for dates of service beginning June 11, 2018, Harvard Pilgrim will no longer require prior authorization for coverage of the colorectal cancer screening test Cologuard for commercial members. Click here to read more.
HPHC – Negative Balance and Refund Process Enhancements
Harvard Pilgrim would like to remind providers of the tools and resources available to help navigate updated negative balance and refund check processes, and to inform you of some recent/upcoming enhancements to the payment summary information in the Payspan printable view, designed to provide more detailed information and allow for greater ease in reconciling your remittance advices.  Click here for more details.
HPHC – Enhanced Processes and Communication with Providers
To improve transparency and efficiency, Harvard Pilgrim is updating our processes and communications with providers relating to provider enrollment change requests and claims rejections. Click here to learn more.
---
Tufts Health Plan – Tufts to Manage Behavioral Health Services for GIC Members
Beginning July 1, 2018, Tufts will manage behavioral health services for GIC Navigator and Spirit plans, which were previously managed by Beacon Health Options.  This change applies to existing members as well as members enrolling in a  GIC Navigator and Spirit plans on or after July 1, 2018.  Click here to view the full notification from Tufts Health Plan.
---
PRACTICE INCENTIVES
---
In April, the Northeast PHO began formally recognizing colleagues who provide a positive experience for our patients, help us keep care local and meet our quality targets. The gift card winners for the month of May are:
Nancy Arrigo at Lahey Primary Care, Beverly who was recognized for her outstanding contribution to implement a new process to ensure patients are scheduled for their Well Visits.
Amy Janeliunas at Essex Surgical Associates who was recognized for providing timely and convenient access for patients to their surgeons.
Jane Brown at Beacon Family Medicine who was recognized for her positive patient comment: "Jane is exceptional…I appreciated her kindness & professionalism".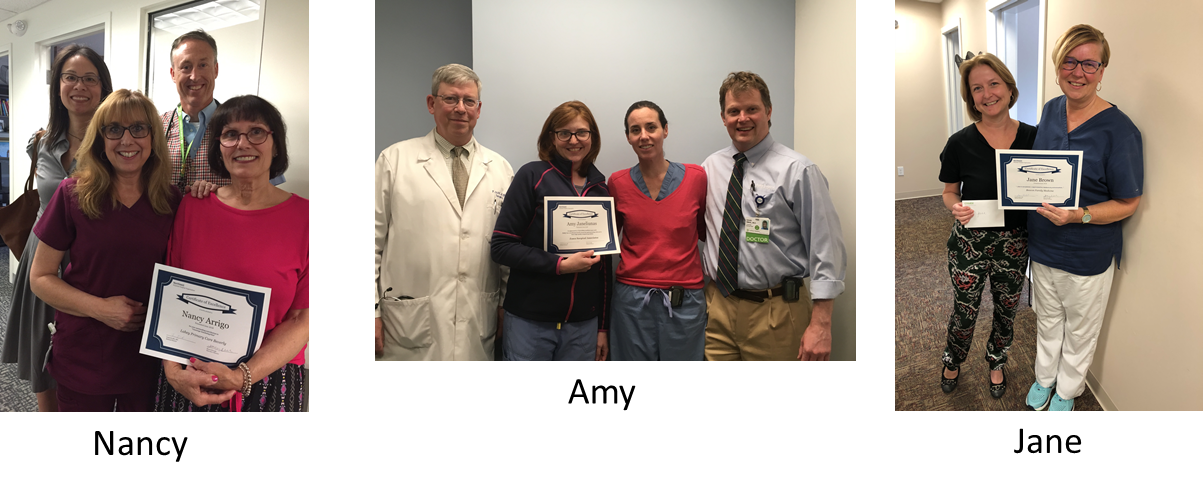 We appreciate their efforts in supporting the PHO goal to provide high quality, community health care.   We will deliver gift cards to the winners each month, and they will be announced here in the newsletter.   Please be sure to look for them!
---
DANVERS FAMILY DOCTORS OFFERING LASER THERAPY WITH THE ICON PLATFORM
---
Danvers Family Doctors, P.C. (DFD) is now offering laser therapy with the Icon platform.  The Icon is designed for a wide variety of dermatological conditions, ranging from sun damage and fine lines to vascular lesions.  The Icon platform includes reduction of:  pigmented lesions, surgical & acne scars, stretch marks, and permanent hair reduction to mention a few.
Contact DFD at
978-762-6262
with any questions you might have regarding the Icon.  DFD is offering a free consultation to patients referred from NEPHO practices.
If your practice has a new service to offer that you would like included in a future NEPHO newsletter, please contact Alycia Messelaar, NEPHO Manager of Provider and Payor Relations, at
978-236-1784
or
Alycia.Messelaar@Lahey.org
.
---
PATIENT EXPERIENCE COMMENTS
---
BEACON FAMILY MEDICINE
Dr. Aimee Hromadka is the best. I could not recommend her highly enough.
CAPE ANN MEDICAL CENTER
Dr. James Maguire is friendly and has a competent staff.
CAPE ANN PEDIATRICS
Always a terrific experience with Dr. Jeffrey Stockman, the nurse practitioners and the receptionists!
DANVERS FAMILY DOCTORS
I love Sara Castantini! Felt very comfortable and respected.

LAHEY HEALTH PRIMARY CARE, BEVERLY – 30 Tozer Road
Dr. Tina Waugh and her team are amazing and very attentive!
Dr. Nicholas Avgerinos is by far the best PCP I have ever encountered!
LAHEY HEALTH PRIMARY CARE, DANVERS – 5 Federal Street
Maureen Thompson is a very caring provider who gives you her full attention. She is
very attentive to details.  We have followed her from one practice to another.  I have every
confidence in her.
LAHEY HEALTH PRIMARY CARE, DANVERS – 480 Maple Street
I'm one of Dr. Kristina Jackson's oldest patients. She is wonderful to me and her nurse Terry
is great.  I get the best of care.
LAHEY HEALTH PRIMARY CARE, GLOUCESTER – 298 Washington Street (4th floor)
Dr. Victor Carabba has always made me feel that he was genuinely concerned for my
wellbeing.  He takes interest, listens and provides excellent feedback.
Entire staff is very friendly and courteous. They are all (from receptionist to MD) very
helpful with any concerns or issues.
I'm very happy with Dr. Karen Damico's care. I have recommended her to others.
LAHEY HEALTH PRIMARY CARE, GLOUCESTER – 298 Washington Street (1st floor)
Dr. Amy Esdale has provided excellent medical care. She listens very carefully and addresses issues immediately.
GARDEN CITY PEDIATRICS
All my children have been with this group – they are the best!
NORTH SHORE PEDIATRICS
Our family loves Dr. David Danis – he is extremely professional and thorough, knowledgeable
and great with kids.
PATTON PARK MEDICAL
I have had an extremely positive experience on every visit both with Dr. Michael Edwards
and his staff.
THOMAS PEARCE, M.D.
Dr. Thomas Pearce and his staff are a pleasure to be around and make me feel confident
that I am receiving the best care.
THOMPSON MEDICAL ASSOCIATES
NEVER had a bad experience. Both Dr. Candace Thompson and her staff are great and are
all there when need be.