A Little Bit About Us
Northeast PHO has been providing management services to our members for more than 25 years.  Below are some key facts and milestones related to our organization:
NEPHO was incorporated in 1995 by New England Community Medical Group (NECoMG) and Northeast Health Systems (NHS), Northeast Hospital Corporation's (NHC) former parent company.

NEPHO and NECoMG are governed by separate Boards of Directors.

NECoMG is an independent physician organization and was first comprised of 30 PCPs and 58 Specialists; there are presently 54 PCPs and 260 Specialists.

NECoMG continues to include both private practice and employed physicians.

The original 2 member hospitals of NEPHO remain: Beverly Hospital and Addison Gilbert Hospital.

Dr. Gregory Bazylewicz was the first President of NEPHO & NECoMG; Dr. Pierre Ezzi is the current President.

Dr. Philip Herrick was NEPHO's first Medical Director. Since then, Dr. Joel Shelkot, Dr. Leslie Sebba and Dr. Louis Di Lillo also served this role.  Dr. Joseph Peppe is the current Medical Director.

Jeanne Holland was the first Executive Director of NEPHO; others who have held the position include Nicole DeVita and Stacey Keough (the current Executive Director).

In 2010, NEPHO entered into our first Alternative Quality Contract (AQC) with Blue Cross Blue Shield (BCBS).

In 2012, NEPHO joined the Lahey Clinical Performance Network (LCPN) as an Accountable Care (risk) Unit (ACU). See affiliation chart below.

In 2019, Beth Israel Lahey Health was formed as a new health care system that includes thirteen hospitals, more than 4,000 physicians and 35,000 employees. Northeast PHO becomes a member of the Beth Israel Lahey Health Performance Network (BILHPN).

In 2021, the BCBS and HPHC contracts will be held through the Beth Israel Lahey Health Performance Network (BILHPN)

NEPHO holds 4 direct contracts and 8 through our affiliation with LCPN/BILHPN.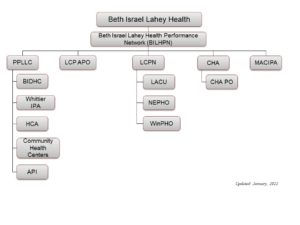 For further information regarding the BILH merger please click here.