---
NEW PROVIDERS

---
MARIE PELOQUIN, MD
CENTER FOR HEALTHY AGING
480 Maple Street Suite 201
Danvers, MA 01923
(P) 978-646-7070          (F) 978-750-6988
INTERNAL MEDICINE/GERIATRICS
---
VELJKO POPOV, MD
BEVERLY RADIOLOGY ASSOCIATES
85 Herrick Street
Beverly, MA  01915
(P) 978-922-3000          (F) 978-927-3534
RADIOLOGY
---
EMILY CHIN, MD
LAHEY URGENT CARE, DANVERS
480 Maple Street
Danvers, MA 01923
(P) 978-304-8380         (F) 978-304-8389
URGENT CARE
NEWS FROM NEPHO
MARCH 2019 EDITION

IN THIS ISSUE:
---
PRACTICE CHANGES / UPDATES
---
Dawn Ansello, DMD of Dawn Ansello, D.MD.  has announced retirement effective 4/30/2019
Corey Collins, DO of Beverly Anesthesia Associates has resigned effective 3/15/2019
---
SAVE THE DATE
---
MD ORIENTATION
Date: April 10, 2019 @5:30 P.M.
Place: 500 Cummings Center, Ste. 6500
Good Harbor Room Conference Room
Beverly, MA  01915
RSVP: Alycia.Messelaar@lahey.org or 978-236-1784
---
OPEN MEETING I SUMMARY – MARCH 2019
---
The Northeast PHO wishes to thank the NEPHO Medical Membership who attended one of the three sessions conducted at Beverly, Danvers and Gloucester.  If you have any questions or concerns and wish to discuss them further, feel free to contact Stacey.Keough@lahey.org or 978-816-2010.
---
ANNUAL MEETING – 2019 ELECTION TO THE NECoMG BOARD OF DIRECTORS
---
The NECoMG Board of Directors election will be held at the NECoMG Annual Meeting on June 20, 2019 at 7:00 a.m. If you would like to nominate a Primary Care Physician or Specialist, or nominate yourself, to represent your Shareholder class on the NECoMG Board of Directors, please confirm their willingness to serve if elected and provide the candidate's name to Stacey Keough at the Northeast PHO office via telephone: 978-816-2010, Fax: 978-236-1777 or email: Stacey.Keough@lahey.org  no later than April 25, 2019.
2019 Annual Meeting Presenter Update
Reid Plimpton from the Northeast Telehealth Resource Center (NETRC) will be presenting on the resources available to bring Telehealth services into an organization while discussing potential service focus for Primary Care and Specialty practices.
NETRC has a mission to increase access to quality health care services through Telehealth.  NETRC website link
Please contact Shawn Bromley at shawn.m.bromley@lahey.org and/or 978-236-1704 if you would like to learn more about Telehealth services.
Quality and Population Health: Diabetes Intervention Program (DIP)
Alison Gustafson presented a new approach to the patients who are not at health plan A1c goal of < 9.
The plan is to use the "it takes a village" approach to these patients ensuring an assessment and plan that  addresses patient's medical and social barriers to getting to goal.
Team members will be the: PCP, Primary Care Practice, Office Nurse, PHO Care Manager, PHO Pop Health NP, PHO Pharmacist, PHO Health Coach, Mental Health provider, and Diabetes Care Center professionals.
Patient Experience
Liz Isaac reviewed the following items as part of Transparency Pilot Soft Launch which began in March. The soft launch provided physician star ratings on paper as they would be online..
Items reviewed included:

Pilot Charter
Pilot Timeline and Tasks
Pilot Questions
Program Star Rating Methodology
Exclusion Criteria and Appeals Process for Comments
Ratings and Comments Publish Process for Go Live
Physician specific profile reports and comments

The Medical Management Council reviewed physician appeals at the March meeting.
---
POPULATION HEALTH

---
Managed Care is focused on trying to improve quality and efficiency in patient care. Putting the patient in the center and developing mutual goals between the clinical team can improve outcomes.  Currently in the Diabetes Intervention Program engagement of the PCP, Practice Office Nurse, Diabetes Care Center, Care Manager, Health Coach, Pharmacist, Mental Health, Social Work, and Population Health NP helps in the management of diabetes patients and improves their helath outcomes.
Click slides to enlarge.
Acute Bronchitis
Acute bronchitis is a form of lower respiratory tract inflammation affecting the bronchi of the lungs. This condition is usually caused by a respiratory virus. According to the American Lung Association a bacterial infection can cause Acute Bronchitis, but this occurs in less than 10 percent of cases. Most cases of acute bronchitis resolve with rest, fluids, a cough suppressant and/or a pain reliever. Additional medications may be prescribed to help with wheezing. Antibiotics have not been proven to shorten the course of acute bronchitis or lessen symptoms.
 Patients with acute bronchitis only should not be prescribed an antibiotic within 3 days of the diagnosis.
ICD10 Acute Bronchitis Codes: (J20.3-J20.90)
Chlamydia
Chlamydia is the most commonly reported STD in the United States. Most people who have chlamydia have no symptoms. If left untreated Chlamydia can cause serious, permanent damage to a woman's
reproductive system. Chlamydia rates in the United States are rising (22% increase since 2013). The Center for Disease Control (CDC) recommends that any sexually active woman younger than 25 years old should be tested for Chlamydia every year.
 Young women aged 16-24 with any evidence of sexual activity, including a prescription for birth control or who have had a pregnancy test need a urine chlamydia test annually.
Rates of Chlamydia for Women aged 15-44 years
2008-2017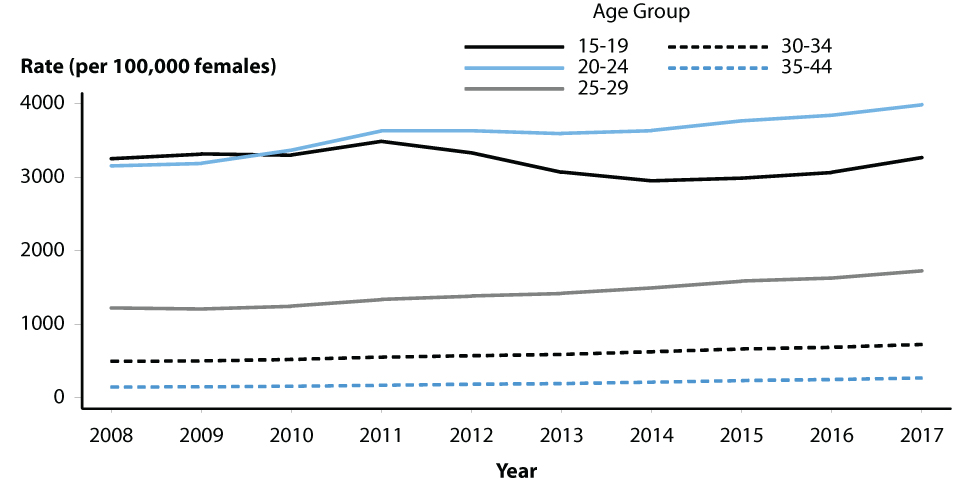 Click to enlarge
Massachusetts Health & Hospital Association (MHA)
Summary Document – February 2019
Substance Use Disorder Evaluation Updates
Administration, Prescribing, and Dispensing of Opioids & Other Medications of Potential Misuse
E-Prescribing Requirement by January 2020
Medicare Part D Opioid Prescribing Requirements
Medication for Addiction Treatment (MAT) for Opioid Use Disorder (OUI) in ER
Click logo to read more

Creating a Proactive Approach to Coding Denials
Recent data show a rise in claim denials from Medicare/Medicaid and commercial payers. Almost 80% of denials are now from commercial payers. Though denial prevention is the ultimate goal, creating a strategy for management of denials and appeals is necessary for practice success.
Implementing a Proactive Appeal Strategy
Establish a team approach:
Hold regular meetings with practice staff to review reports, discuss issues, track trends, and monitor outcomes.
Work closely with the Contracting and Provider Relations:
Providers need to understand payment policies and contract language and exercise their right to the appeal process.
Never assume the denial is correct:
Investigate the rationale for the denial and make sure coding resources are up to date. Verify references and note discrepancies in your appeal. Have an under-standing of the appeal process and payer filing limits.
Provide periodic training for practice staff:
The following links are resources available to help keep practice staff trained:
Best -practices when claims are denied
Patient advocate resources – insurance-denials-appleals
Additional resources are available to help manage denials and appeals on all payer provider portals.
Areas to focus on to help reduce coding denials that impact revenue:
Heightened Focus on Clinical Validation: Even when a provider's documentation clearly states a diagnosis, it will be challenged if the payer determines there are insufficient clinical indicators or discussion points to support the diagnosis. Medical necessity needs to support the reason for visit and diagnosis coded.
Example: A procedure can be denied for not meeting medical necessity. An x-ray for the ankle would not be taken when the patient is having chest pain as that does not meet medical necessity. An x-ray of the ankle would be taken for "ankle pain" or "ankle swelling".
Data collection and reporting: Reports identify dollars at risk, dollars recovered, problem payers, denial trends, and missed coding opportunity to increase revenue. A benefit of reviewing data is the ability to identify the root causes and frequency of payer denials while providing an educational opportunity to help in reduction of denials.
Example: A practice receives denials for a specific CPT code. Review denial detail and follow-up with payer on specifics; NCCI edit, incorrect CPT billed, documentation issue supporting medical necessity. Always understand the reason for denial and appeal if there is supporting reason.
Example: Create a monthly report that captures services denied. Study data pulled and identify potential trends, understand the denial reason, and review dollar impact of these denials. Consult coding experts to ensure accuracy of the denial.
Please contact Shawn Bromley, Director of Operations and Contracting NEPHO, if you would like to discuss ways to implement a best practice approach to working coding denials and appeals. Shawn.m.bromley@lahey.org  or  978-236-1704.
---
PATIENT EXPERIENCE COMMENTS

---
Danvers Family Doctors – 140 Commonwealth Avenue
Dr. Subroto Bhattacharya (Dr. B.) had superior knowledge and empathy for the patient!
Garden City Pediatric Associates – 83 Herrick St, Beverly, MA
We feel very well cared for by Dr. Ian Sklaver and the rest of the GCP team.
Family Medicine Associates,  Hamilton – 15 Railroad Avenue
Dr. William Medwid is EXCELLENT, CARING and KNOWLEDGABLE and he is the BEST! His staff are top notch!
Lahey Primary Care, Beverly (FMA) – 30 Tozer Road
Dr. Susan Deluca is a very caring person.  I am very comfortable and very happy to be in her care.
I love Dr. Gail Ellis the best medical staff I've ever worked with.  Thank you!
Lahey Primary Care, Danvers – 480 Maple Street
Dr. Galina Feldman the best PCP I've ever experienced!
Lahey Primary Care, Danvers (IMNS) – 5 Federal Street
Dr. Mauri Cohen was most patient and informative and spent a lot of time dealing with multiple questions and health issues.
Lahey Primary Care, Danvers (NSPC) – 5 Federal Street
These folks are great. They know me – I know them – they knew my folks and Dr. Margaret Legner is the best.
Lahey Primary Care, Gloucester – 298 Washington Street
Dr. Victor Carabba is the best provider I have ever had. Human, knowledgeable, polite and perfect.
Dr. Amy Esdale has always provided exceptional care. She always listens to my concerns and is right on target with my health care.
North Shore Pediatrics – 480 Maple Street, Danvers, MA
Dr. David Danis consistently provides great care, support, and service. From the admins to the doctors. Thank you!
North Shore Preventive Health Care – 75 Herrick Street, Beverly, MA
Dr. Roy Ruff is a thorough provider – I trust him with my health.
 "My husband and I are so fortunate to have such outstanding medical care provided by Dr. Ruff and his staff.  Very caring and professional."
Thomas Pearce, MD – 279 E. Main Street, Gloucester, MA
I am a nurse practitioner myself and Dr. Thomas Pearce offers me great ideas and teaches me things EVERY visit, things not even on my radar! And he's respectful….over the top!  No other physician like him!
Top Doctors 2019
See the list of Castle Connolly's top North Shore doctors.
NORTHSHORE MAGAZINE
MARCH 15, 2019
Best in Their Region and in Their Medical Specialty
Cardiac Electrophysiology
Dr. Jonathan S. Silver Lahey Cardiology, Beverly
Dermatology
Dr. Gary S. Rogers University Skin Oncologists
Family Medicine
Dr. Hugh Taylor Family Medicine Associates, A Member of Lahey Health
Infectious Disease
Dr. Steven P. LaRosa – Lahey Infectious Disease, Beverly
Dr. Lucas E. Wolf – Lahey Infectious Disease, Beverly
Internal Medicine
Dr. Mauri Cohen – Lahey Health Primary Care, Danvers
Interventional Cardiology
Dr. Edward J. Loughery – Lahey Cardiology, Danvers
Neurology
Dr. Timothy R. Kelliher – North Shore Neurology & EMG
Dr. Anna Litvak Essex Neurological Associates
Obstetrics & Gynecology
Dr. Mary H. McCaffrey – Essex County OB/GYN

Ophthalmology
Dr. Ioannis P. Glavas – Ioannis P. Glavas, M.D.
Dr. John M. Gurley
Dr. Emma Massicotte
Dr. Michael A. Piacentini
Orthopaedic Surgery
Dr. John J. Boyle – John Boyle, M.D.

Otolaryngology
Dr. James Demetroulakos – North Shore Medical ENT Associates

Reproductive Endocrinology/Infertility
Dr. Khalid M. Syed – Khalid Syed, M.D.
Doctors do not and cannot pay to be selected and profiled as a Castle Connolly Top Doctor. Physicians selected for inclusion in Northshore magazine's "Top Doctors" feature may also appear online at www.castleconnolly.com, or in conjunction with other Castle Connolly Top Doctors databases online and/or in print.
---
PRACTICE RECOGNITION

---
The Northeast PHO recognizes colleagues who provide a positive experience to our patients, help keep care local, and meet our quality targets.
This month's recognitions are:
Tara Bochetti, North Shore Preventive Health Care, P.C.
was recognized for positive comments from patients.
"Tara is wonderful" — "I enjoyed my visit
and everyone was very nice and professional."
"Great staff, they take care of me well!"
Maureen Kloptoski, Cape Ann Eye Specialists
was recognized for excellent patient outreach
efforts scheduling needed appointments.
"Absolutely love this practice, everyone is super nice!"
Anne Innis, North Shore Pediatrics
Anne was recognized for educating patients about their insurance and has effectively collaborated with the NEPHO Referral team by re-directing patients to in-PHO Specialists.
We appreciate their efforts in supporting the PHO goal to provide high quality, community health care.  We will deliver gift cards to the winners each month, and they will be announced in the newsletter and on the NEPHO website. www.nepho.org