OCTOBER IS BREAST CANCER AWARENESS MONTH
Currently, the average risk of a woman in the United States developing breast cancer sometime in her life is about 13%. This means there is a 1 in 8 chance she will develop breast cancer.
Current year estimates for breast cancer
The American Cancer Society's estimates for breast cancer in the United States for 2019 are:
About 268,600 new cases of invasive breast cancer will be diagnosed in women.
About 62,930 new cases of carcinoma in situ (CIS) will be diagnosed (CIS is non-invasive and is
the earliest form of breast cancer).
About 41,760 women will die from breast cancer.
 Trends in breast cancer incidence
In recent years, incidence rates have increased slightly (by 0.3% per year). 
Trends in breast cancer deaths
Breast cancer is the second leading cause of cancer death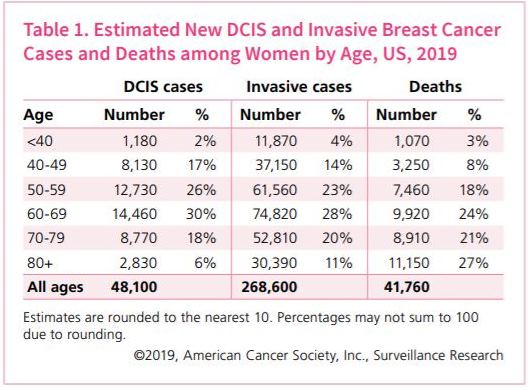 in women (only lung cancer kills more women each year). The chance that a woman will die from breast cancer is about 1 in 38 (about 2.6%).
Death rates from female breast cancer dropped 40% from 1989 to 2016. Since 2007, breast cancer death rates have been steady in women younger than 50, but have continued to decrease in older women. These decreases are believed to be the result of finding breast cancer earlier through screening and increased awareness, as well as better treatments.

Ordering a Mammogram on EPIC
While an order is not required for a Mammogram, on EPIC we need a Mammo order in order to schedule the screening.  The correct order to enter is "Mammo Screening Tomosynthesis Bilateral" We cannot schedule Mammograms with the "Mammo Bilateral Screening" order anymore.  For those patients that are not on EPIC I have entered the correct order in the system.
For more information about our local Breast Health Services please click here:
Please see the 2019-2020 ACS Breast Cancer Facts & Figures
See our Population Health Page for more information and please contact me anytime if you have any questions at  Lucia.Kmiec@Lahey.org or at 978-880-2318