Breast Cancer Awareness Month
October is Breast Cancer Awareness Month, an annual international campaign to increase awareness of Breast Cancer, support patients who are fighting this disease and raise funds for research. Due to the COVID-19 pandemic there are many women who are currently overdue for mammograms.
At the Northeast PHO we have a number of initiatives and tools available to help engage patients and encourage them to get mammograms:
Mammogram Reminder Pads: Each pad contains 25 sheets and lists the number to call and locations where patients can schedule a mammogram. There is also a space for patients to write their appointment information. Please contact Laureen Viel, laureen.viel@lahey.org, to request mammogram reminder pads.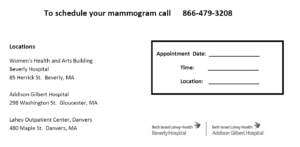 .MAMMOSCHED: This SmartPhrase is available for EPIC users to add to the After Visit Summary and contains all of the information on the mammogram reminder pads.
Concierge Scheduling: We are in the process of scheduling mammograms for women who are greater than 18 months overdue for a mammogram. Patients receive a letter with a pre-scheduled mammogram as well as a reminder call shortly before their appointment. Laureen Viel, Lead Population Health Specialist, is available to help patients reschedule appointments and answer any questions they may have about this initiative.
Please see the statement below from Dr. Ashling O'Connor, Surgeon, Medical Director and Dr. Audrey Duva-Frissora, Radiologist, Chief of Breast Imaging regarding the services and care available for women in need of breast cancer screenings and/or additional testing.
Beverly Hospital, Addison Gilbert Hospital and The Lahey Outpatient Center, Danvers offer a wide range of appointments for screening mammography on Monday through Saturday. Our breast care team which is comprised of Surgeons, Radiologists, Medical Oncologists, Radiation Oncologists, Nurse Practitioners, and Genetic Counselors work together closely to ensure individualized care for all patients. We follow the American College of Radiology, the Society of Breast Imaging, the American Board of Surgeons and the American Society of Breast Surgeons guidelines that recommend annual screening mammography starting at age 40 for women at average risk.  We encourage those women at higher risk be referred to the breast care team to determine the need for additional screening tests, genetic counseling and genetic testing. We are committed to providing compassionate, quality care to the women of the communities we serve.
Thank you for continuing to encourage your patients to schedule their mammograms!