Concierge Scheduling for Mammograms
The concierge scheduling program for patients who are in need of mammograms has resumed as of July 2021.
Each patient's chart is reviewed to insure that the patient is due for a mammogram.
The patient is then scheduled based on the time and location of their last scheduled mammogram.
A letter is sent to the patient listing the day, time and location of their appointment, along with the contact information for Laureen Viel, NEPHO Lead Population Health Specialist.
As of the first two weeks of July, 20 appointments have been scheduled. 3 patients have reached out to Laureen to reschedule (not cancel!) their appointments.
Please see below for a copy of the letter that is sent to patients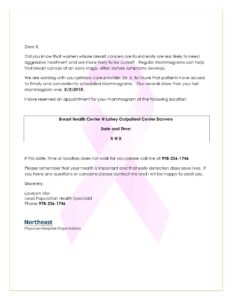 In addition to the concierge scheduling program, the NEPHO Quality Team collaborated with the Beth Israel Lahey Health Performance Network on a texting campaign for patients ages 50 to 74. For NEPHO patients, 500 text messages were sent every Tuesday during the months of June and July.
How you (practice-wide) can help:
Please encourage your patients to schedule their mammograms and extract a commitment. Example: "It is important for you to get this screening done. Will you be able to call this week to schedule it?"
If patients refer to the letter or texting campaigns, let them know you are aware of these campaigns and support getting this screening completed.
If you have any questions regarding the concierge scheduling program, please contact Laureen Viel at 978-236-1746 or laureen.viel@lahey.org.