The Northeast PHO recognizes colleagues who provide a positive experience for our patients, help us keep care local, and meet our quality targets.
This month's winners are:
Ellen Kenyon, Lahey Health Primary Care, Beverly, was recognized for supporting quality improvement efforts.
Carolyn Kernweis, Lahey Health Primary Care, Danvers, was recognized for her patient experience comment "Carolyn is an asset to the office!"
Lauren Capezzuto, RN, North Shore Pediatrics, was recognized for her efforts to lead a pilot for distributing COVID-19 vaccines to private practices.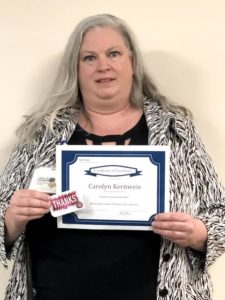 Carolyn Kernweis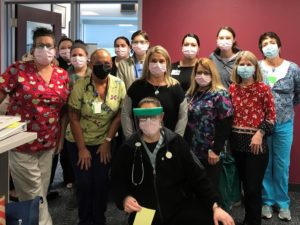 Dr. Tina Waugh and staff: Kim Luna, Kat Wear, Annmarie Wonson, Carol Addorisio, Ellen Kenyon, Greta Tare, Jordyn Curcio, Amy Knight, Kimberly Martinez, Alix Wozniak, Megan Goulart, Courtney Brutto, and Gael McManus.  Missing from photo: MA, Allie Carlson (who took the photo) and providers doing remote teleheath: Dr. DeLuca, Dr. Ellis, Dr. Mahajan, NPs Lauren Lomonaco, Christine O'Connor, Jennifer You.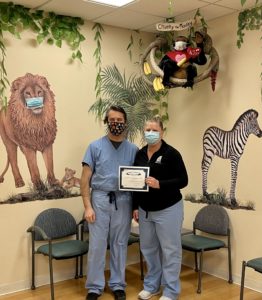 Dr. David Danis and Lauren Capazzuto, RN