The Northeast PHO recognizes colleagues who provide a positive experience for our patients, help us keep care local, and meet our quality targets.
This month's winners are:
Gail Hendrickson, Family Medical Associates – Manchester, was recognized for supporting quality improvement efforts.
Christina Medeiros, Blackburn Primary Care, was recognized for her collaboration with the PHO Referral Team. Christina is energetic and excited to learn about the NEPHO. She trained our supporting referral staff in their Athena EMR.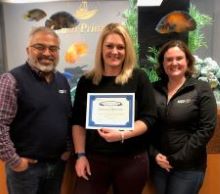 Dr. Jay Isaac, Christina Medeiros, Office Manager and Beth Shanks, PA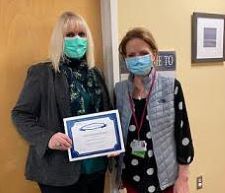 Gail Hendrickson, Practice Manager and Dr. Jana Oettinger