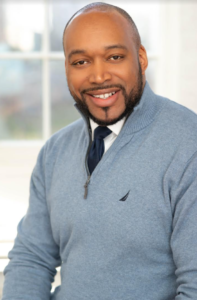 Kevin Bernard, MD is a pain management specialist at Sports Medicine North treating patients at the Peabody, Beverly, and Newburyport locations in the North Shore area. Dr. Bernard helps people in pain get better and return to the activities that are important to them without surgery. 
Dr. Bernard evaluates patients from adolescence to senior citizens and is an expert in providing care for patients of all activity levels including weekend warriors, high school, college, and professional athletes. Dr. Bernard proudly cares for our military, city police officers, firefighters, and all essential workers.

Dr. Bernard grew up in Atlanta, Georgia before moving to Alabama for college. He graduated from Oakwood University with a degree in Biomedical Science and attended medical school at The University of Alabama School of Medicine (UAB). As a medical student, he assisted team physicians at The University of Alabama in medical coverage of the Alabama Crimson Tide Championship football team. During residency at The Rusk Institute of Rehabilitation at New York University, Dr. Bernard continued to develop an interest in musculoskeletal care through a myriad of activities, which included:
Harkness Center for Dance

Side-line coverage for "The Heroes on the Hudson" a rowing event affiliate with Manhattan's VA hospital and high-school football games in Queens and Brooklyn

Adaptive fencing at the Manhattan Fencing Center

Floor hockey and baseball for the Special Olympics New York City

Assisted at the finish-line medical tent of the NYC and Brooklyn Marathons

Following residency, Dr. Bernard relocated to Massachusetts where he completed a Spine Fellowship at New England Baptist Hospital and stayed on as a staff physician in The Spine Center prior to practicing in the north shore area.
Dr. Bernard evaluates and treats cervical, thoracic, and lumbar conditions of the spine and back, in addition to other disorders of the musculoskeletal system including hip, knee, and shoulder conditions.
When meeting Dr. Bernard for the first time- a detailed history and a comprehensive physical exam are performed. From the initial visit, all management options are patient-centered and a detailed explanation is provided to explain the underlying condition. Together an evidence-based treatment plan that considers patient preferences and core values will be developed. Treatment goals are centered on improving a patient's quality of life and overall function. The most advanced methods in treating neck, back, and joint pain are used to accomplish these goals. Dr. Bernard is offering both in-office and telehealth appointments so that patients can be seen safely for all their orthopedic needs.
When Dr. Bernard is a lover of StarWars and when he is not seeing patients you might find him hanging out on the slopes with his wife and 2 kids.
Dr. Bernard is available for virtual meetings to discuss delivering the best care Monday or Tuesday afternoons although other times can arrange with notice.