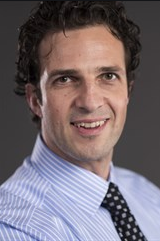 "Having developed strong ties to the Northshore community during the past four years, I was honored to join Beverly Hospital and Lahey Clinic Radiology departments.
I hope to serve Northshore residents by offering a spectrum of Interventional Radiology services that include minimally invasive treatments for peripheral vascular disease, venous disease and cancer in the comfortable settings of Beverly Hospital and Lahey Clinic. My professional interests include: advanced treatments in peripheral arterial disease, limb salvage procedures, superficial and deep venous disease, percutaneous and minimally invasive treatments of liver, kidney and bone cancers, treatment of vertebral fractures and interventional radiology pain procedures."
Dr. Popov is Board Certified in both Radiology and Vascular and Interventional Radiology.  He performs procedures at the Vein Center at LOCD and in Interventional Radiology at Beverly Hospital.
Dr. Popov holds MD and PhD degrees from Dartmouth Medical School. He did his Diagnostic Radiology Residency at Lahey Clinic Burlington. He completed his Fellowship in Vascular and Interventional Radiology at Yale University in 2014. He has been practicing Diagnostic and Interventional Radiology on the Northshore since that time. Beverly Radiology Associates is honored to add such a well-respected physician to our team.
He brings extensive experience to our Vein Center at LOCD as well as to our Diagnostic and Interventional sections. He will also be seeing patients in Interventional Radiology at the Lahey Burlington Campus one day per week.
For vein treatments call 978-816-2988
For Interventional Radiology call 978-816-3410
For peripheral arterial disease and cancer treatments call 978-816-3410