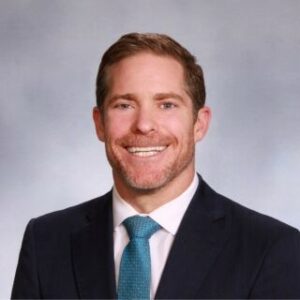 Dr. Richard Birkett joined Essex Surgical in 2022. He earned his medical degree from Drexel University School of Medicine and completed his General Surgery residency at The Lahey Hospital & Medical Center. Following residency, he did his fellowship in Colon and Rectal Surgery at the University of Pennsylvania, Perelman School of Medicine. He began his practice as faculty surgeon at University of Maryland School of Medicine in the Department of General and Surgical Oncology before returning home to Boston and joining the surgical staff at Tufts Medical Center.
Dr. Birkett has a particular interest in Colon and Rectal Surgery. He focuses on minimally invasive techniques to treat colon cancer, sphincter-saving techniques for rectal cancer, Crohn's disease, Ulcerative Colitis, diverticulitis, and rectal prolapse. He treats anorectal conditions such as hemorrhoids and performs colonoscopies. He has a special interest in robotic surgery, advanced laparoscopy as well as advanced trans-anal surgery.
He obtained his MBA at University of Massachusetts and has worked at Microline Surgical in surgical device marketing, business development and efforts bringing environmental sustainability into the Operating Room.
He enjoys time with his family, cycling, water sports and running with his dogs.

Richard T. Birkett, MD, MBA
100 Cummings Center Drive, Suite 112 D
Beverly, MA 01915
978-922-9226