Maximizing Patient Quality, Safety and Experience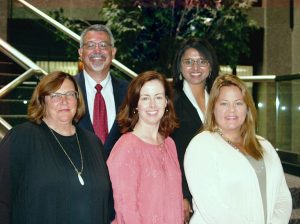 Our program is geared towards continuous improvement in the quality of care received by our patients.
We provide education about the details of nationally accepted quality measures as they are interpreted by the health plans.  We share data and analyses on current ambulatory quality performance at the organization and individual level. We also design and implement strategies, processes and programs directed to maximize patient quality, safety and experience.
QUALITY HIGHLIGHT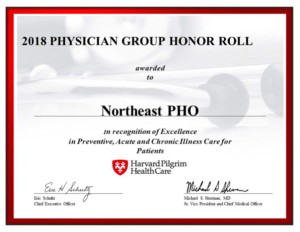 CONGRATULATIONS NEPHO PRACTICES for earning Honor Roll status in Harvard Pilgrim's 2018 Honor Roll program.
About the Honor Roll program:
The actual 2017 performance of NEPHO practices on 16 measures in 3 clinical domains was compared to expected performance, and it was noted whether the performance was at the national 90th or 75th percentile
The 3 domains are:

Acute Care (examples are Appropriate Treatment for Adults with Acute Bronchitis, Avoiding Imaging in Low Back Pain without clinical red flags)
Chronic Care (Appropriate care of patients with diabetes and asthma) and
Preventive Care domain (Adolescent Well Care visits, Cancer Screenings)

In 2 domains, Acute Care and Preventive Care, NEPHO's performance combining all measures in each domain was at the 90th percentile
In the Chronic Care Domain, we narrowly missed the 90th percentile, earning us points for making the 75th percentile.
In short, we know we have opportunity for improvement for certain measures within each domain, and this is an area of focus for 2018.  For now, please give yourselves a well-deserved pat on the back!