Get Ready for ICD-10 Clinical Modification (CM) Updates 
The new 2021 ICD-10 CM codes have been released and updates are set to be significantly larger than 2020.
Updates will be effective on October 1, 2020.
Summary of updates by chapter are:
Chapter 1: Certain Infectious & Parasitic Disease

Has a new section for reporting Coronavirus infections.

Chapter 3: Diseases of Blood & Blood-forming organs

Has 18 new, detailed codes available for sickle cell anemia.

Chapter 4: Endocrine, Nutritional & Metabolic Disease

Includes new coding instructions to follow for diabetic patients treated with insulin, oral hypoglycemics and injectable non-insulin drugs

Chapter 5: Mental, Behavioral and Neurodevelopmental Disorders

Contains 21 new codes that describe withdrawal from substances including alcohol, cocaine, and opioids.

Chapter 6: Diseases of the Nervous System

Has added "pseudotumor" as a clarifying term to G93.2 (Benign intracranial hypertension).

Chapter 9: Diseases of the Circulatory System

Contains many revisions to the "includes" and "excludes" notes for existing codes.

A new hypertension guideline provides instruction that when a patient has hypertensive chronic kidney disease and acute renal failure, code both conditions and sequence the codes based on the reason for the encounter.

Chapter 10: Diseases of the Respiratory System

Now has code also instructions for cases of acute laryngitis and tracheitis (J04) and acute obstructive laryngitis (croup) and epiglottitis (J05).

This chapter also has a new section specifically for vaping-related disorders.

Chapter 13: Musculoskeletal System

Several updates this year including 12 new codes to capture other pathological fractures (M80.8AX- and M80.0AX-).

Updates include an expanded list of codes for rheumatoid arthritis, as well as primary and secondary arthritis, and arthritis caused by trauma.

New codes in the M24 category for other articular cartilage disorders, disorders of ligament, pathological dislocation, recurrent dislocation, contracture and ankyloses.

Chapter 14: Disease of Genitourinary

Has two new sub-stages to Stage 3 chronic kidney disease (CKD).

New codes are: N18.30 (Chronic kidney disease, stage 3 unspecified), N18.31 (Chronic kidney disease, stage 3a) and N18.32 (Chronic kidney disease, stage 3b).

Chapter 15: Pregnancy, Childbirth, and the Puerperium

Contain new language that warns coders they should not report O85 for sepsis that follows an obstetrical procedure.

A note points them to the Sepsis due to a postprocedural infection of Chapter 1 Certain Infectious and Parasitic Diseases (A00-B99), U07.1

There is a new section that provides instruction on reporting COVID-19 infections in pregnancy, childbirth, and the puerperium

Chapter 16: Certain Conditions Originating in the Perinatal Period

Has a new section for reporting COVID-19 Infections in newborns.

Chapter 18: Symptoms, Signs, and Abnormal Clinical and Laboratory Findings, Not Elsewhere Classified

Has several changes. Code R51 (Headache) will be split into two codes: R51.0 (Headache with orthostatic component, not elsewhere classified) or R51.9 (Headache, unspecified).

Chapter 19: Injury, poisoning & certain other consequences

Has 128 additions that include new codes for adverse effects and poisoning by fentanyl and tramadol as well as other synthetic narcotics.

Chapter 21: Factors influencing health status and contact with health services

Include new observation language.

The new language creates a second exception to the rule that observation codes are primary.

Guidelines state, "An observation code may be assigned as a secondary diagnosis code when the patient is being observed for a condition that is ruled out and is unrelated to the principal/first-listed diagnosis."

NEW Chapter 22: Codes for Special Purposes

(U00-U85) includes just two codes: U07.0 Vaping- related disorder and U07.1 COVID-19, these codes took effect in the earlier this year.
2021 ICD-10 CM Code Changes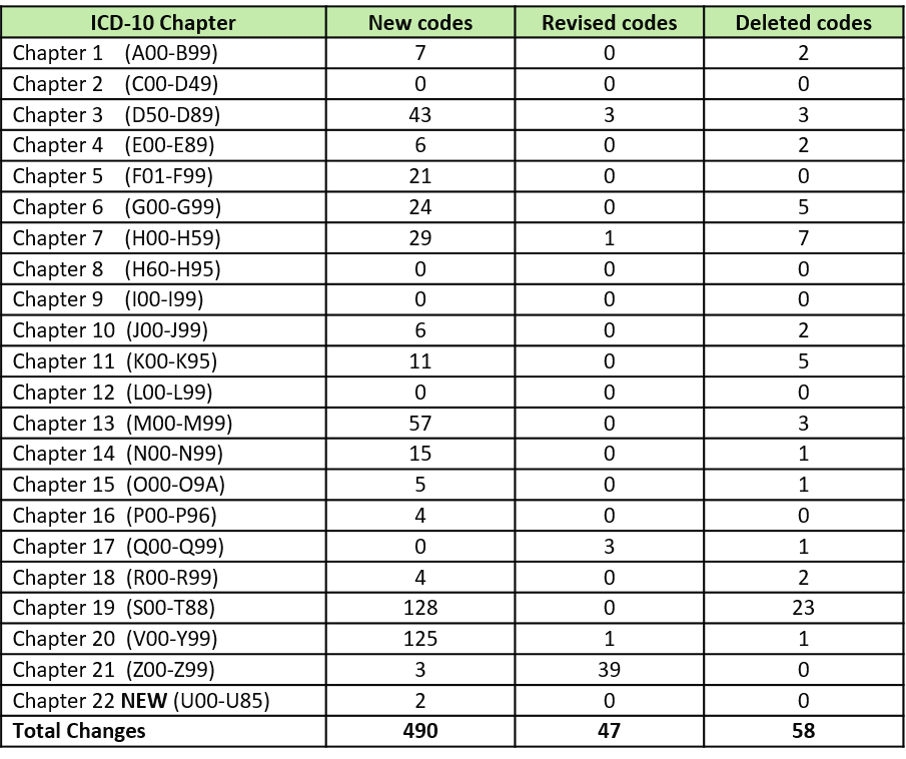 NEPHO will be providing Coding and Billing provider and practice education webinars that are focused on the new ICD-10 CM changes effective October 1, 2020. Webinars will provide a detailed review of the official ICD-10 CM coding guidelines, highlight areas of significant change, and address areas that have been impacted due to COVID 19. Please contact Shawn Bromley at 978-236-1704 and/or shawn.m.bromley@lahey.org if you are interested in learning more about the specific changes coming and how they will impact your specific practice.
2019 OIG Workplan
The OIG regularly updates their website with additonal Work Plan Items.
Please click here for the most recently added Work Plan items