Coding Corner October - 2019 Edition
The ICD-10 CM changes and updates will be effective on October 1, 2019.
The new changes include the following updates:
273 new codes
30 revised codes
21 deleted codes
1500 changes to complication or comorbidity/major complication or comorbidity (CC/MMC) designation
Most severity changes are downgrades
Areas that have significant changes include; pressure-induced deep tissue damage, acute versus chronic embolism and thrombosis, fractures of the facial bones around the eye, among other changes highlighted below:
2020 ICD-10 CM Coding Highlights:
Eye wall fractures. Sixty new acute fracture codes for closed and open fractures of the orbital wall surrounding the eye, specific to laterality and position around the eye. Example: New code S02.831B will report fracture of medial orbital wall right side, initial encounter for open fracture.
Deep tissue injuries. A total of 25 new codes are proposed to be added to specifically capture deep tissue injuries, such as L89.026 (Pressure-induced deep tissue damage of left elbow) and L89.156 (Pressure-induced deep tissue damage of sacral region). Deep tissue injuries currently are coded as unstageable pressure ulcers, which is incorrect by definition, according to the proposal.
Atrial fibrillation. Four new codes in the I48.- category are proposed to capture different forms of persistent and chronic atrial fibrillation, such as I48.11 (Longstanding persistent atrial fibrillation) and I48.21 (Permanent atrial fibrillation).
Phlebitis and thrombophlebitis. Eight new codes for phlebitis and thrombophlebitis that will allow more specific coding for laterality and location, such as I80.241 (Phlebitis and thrombophlebitis of right peroneal vein).
Embolism and thrombosis. New codes to allow reporting of chronic embolism and thrombosis of the peroneal vein and calf muscular vein as well as new codes for acute embolism and thrombosis of those veins. The codes will also be selected based on laterality. For example: Code I82.451 describes acute embolism of right peroneal vein, while I82.562 describes chronic embolism and thrombosis of left calf muscular vein.
Poisoning, adverse effects and underdosing. The proposed update includes 18 new T codes for poisoning, adverse effects or underdosing of multiple unspecified drugs, medicaments and biological substances. You'll use the appropriate seventh character to describe the encounter: initial, subsequent or sequela. The new poisoning codes are divided into four causes: accidental, intentional, assault and undetermined. For example, T50.913S (Poisoning by multiple unspecified drugs, medicaments and biological substances, assault, sequela).
Heatstroke. Summer will be over when the new codes go live, but you'll have options for heatstroke and sunstroke (T67.01X-), exertional heatstroke (T67.02X-), and other heatstroke and sunstroke (T67.09X-).
Legal intervention. There will be 75 new codes for injuries sustained during a legal intervention. Many of the additions are to be used to indicate that an unspecified person was injured. For example, Y35.319A (Legal intervention involving baton, unspecified person injured, initial encounter). The current code set describes injuries to law enforcement officers, bystanders or suspects. In addition, there are new codes for injuries caused by conducted energy devices, such as tasers. Codes Y35.831A-Y35.839S describe injuries to law enforcement officials, bystanders, suspects or unspecified individuals.
New Z codes. You'll find a handful of new codes for factors influencing health status and contact with health services. Proposed codes include Z01.020 (Encounter for examination of eyes and vision following failed vision screening without abnormal findings), Z22.7 (Latent tuberculosis), six new personal history of in-situ neoplasms codes (Z86.002-Z86.007) and one code for the presence of a neurostimulator (Z96.82).
Revisions:
Codes under T40.906– (Underdosing of unspecified psychodysleptics) and T40.996– (Underdosing of other psychodysleptics) were revised to include the term "[hallucinogens]" in the title.
Codes under T44.1×6– (Underdosing of other parasympathomimetics) were revised to include the term "cholinergics" in the title.
Codes M77.51 (Other enthesopathy of right foot) and M77.52 (Other enthesopathy of left foot) were revised to include the terms "and ankle" in the title.
| | | | |
| --- | --- | --- | --- |
| ICD-10-CM chapter | New | Revised | Invalid |
| Chapter 1: Certain infectious and parasitic diseases (A00-B99) | 0 | 3 | 0 |
| Chapter 2: Neoplasms (C00-D49) | 0 | 0 | 0 |
| Chapter 3: Diseases of the blood and blood-forming organs and certain disorders involving the immune mechanism (D50-D89) | 5 | 0 | 1 |
| Chapter 4: Endocrine, nutritional and metabolic diseases (E00-E89) | 0 | 0 | 0 |
| Chapter 5: Mental, Behavioral and Neurodevelopmental disorders (F01-F99) | 0 | 0 | 0 |
| Chapter 6: Diseases of the nervous system (G00-G99) | 0 | 2 | 0 |
| Chapter 7: Diseases of the eye and adnexa (H00-H59) | 0 | 0 | 4 |
| Chapter 8: Diseases of the ear and mastoid process (H60-H95) | 1 | 0 | 0 |
| Chapter 9: Diseases of the circulatory system (I00-I99) | 30 | 2 | 2 |
| Chapter 10: Diseases of the respiratory system (J00-J99) | 0 | 1 | 0 |
| Chapter 11: Diseases of the digestive system (K00-K95) | 0 | 0 | 0 |
| Chapter 12: Diseases of the skin and subcutaneous tissue (L00-L99) | 25 | 0 | 0 |
| Chapter 13: Diseases of the musculoskeletal system and connective tissue (M00-M99) | 0 | 6 | 0 |
| Chapter 14: Diseases of the genitourinary system (N00-N99) | 3 | 1 | 0 |
| Chapter 15: Pregnancy, childbirth and the puerperium (O00-O9A) | 0 | 0 | 0 |
| Chapter 16: Certain conditions originating in the perinatal period (P00-P96) | 0 | 0 | 0 |
| Chapter 17: Congenital malformations, deformations and chromosomal abnormalities (Q00-Q99) | 31 | 0 | 10 |
| Chapter 18: Symptoms, signs and abnormal clinical and laboratory findings, not elsewhere classified (R00-R99) | 3 | 1 | 1 |
| Chapter 19: Injury, poisoning and certain other consequences of external causes (S00-T88) | 87 | 9 | 3 |
| Chapter 20: External causes of morbidity (V00-Y99) | 75 | 3 | 0 |
| Chapter 21: Factors influencing health status and contact with health services (Z00-Z99) | 13 | 2 | 0 |
| Total | 273 | 30 | 21 |
Please contact Shawn Bromley at  Shawn.M.Bromley@Lahey.org or 978-236-1704 with questions regarding new ICD-10 CM changes and updates or if you would like to schedule an onsite overview meeting.
Coding Corner - May 2019 Edition
The Importance of Understanding Medical Necessity
Medical necessity documentation, or lack of it, is one of the most common reasons for claim denials. For a service to be considered medically necessary, it must be reasonable and necessary to diagnosis or treat a patient's medical condition. When submitting claims for payment, it is the diagnosis codes reported with the service that tells the payer "why" a service was performed. The diagnosis reported can be the determining factor in supporting or not supporting the medical necessity of the procedure.
Example:
If the patient came in with an earache and was diagnosed with Otitis Media (H66.91), and the provider billed for a chest x ray, insurance would not pay for it. This is because it is not medically necessary to perform a chest x ray on a patient who is not having any breathing or chest related symptoms or problems.
Medical necessity is based on "evidence based clinical standards of care". This means that there is evidence to support a course of treatment based on a set of symptoms or other diagnostic results.
Not all diagnoses for all procedures are considered medically necessary. CMS (Centers for Medicare and Medicaid Services) and also commercial payers have coverage policies that specify the diagnosis codes that support medical necessity for certain procedures.
It is important to note that a diagnosis code should never be altered to match one of the diagnosis codes listed in a coverage policy as supporting medical necessity. The diagnosis code submitted must be supported and reflected in the medical documentation. It would be inappropriate to report a diagnosis just because it is on an approved list of diagnosis codes that meet medical necessity by a payer.
Medical Necessity and Evaluation and Management Services:
Per CMS; Medical necessity of a service is the overarching criterion for payment in addition to the individual requirements of a CPT code. It would not be medically necessary or appropriate to bill a higher level of evaluation and management service when a lower level of service is warranted. The volume of documentation should not be the primary influence upon which a specific level of service is billed.
It may be appropriate to perform a highly detailed history and physical even when the patient presents with an uncomplicated problem and no workup is planned. However, in these cases it is best to base the final E/M code selection on the level of medical necessity, even if a coding tool suggests a higher level of service based on what is documented.
Medical necessity documentation from a physician and/or provider should include the following:
Severity of the "signs and symptoms" or direct diagnosis exhibited by the patient. This is the diagnosis driver, and multiple diagnoses may be involved.
Probability of an adverse or a positive outcome for the patient, and how that risk equates to the diagnosis currently being evaluated. This is the medical risk vs. gain.
Need and/or availability of diagnostic studies and/or therapeutic intervention(s) to evaluate and investigate the patient's presenting problem or current acute or chronic medical condition.
Providers should continually enhance their documentation to improve overall coordination between medical record, coding accuracy, payer reimbursement. Up front communication with the billing team and/or insurance payers will help avoid claim denials. Some examples of what payers look for when reviewing support of medical necessity include:
Treatment is consistent with symptoms or diagnosis of the illness, injury, or symptoms under review by the provider of care.
Treatment is necessary and consistent with generally accepted professional medical standards (not experimental or investigational).
Treatment is not furnished primarily for the convenience of the patient, the attending physician, or another physician of supplier.
Treatment is furnished at the most appropriate level that can be provided safely and effectively to the patient, and is neither more or less than what the patient is requiring at that specific point in time.
The disbursement of medical care and/or treatment must not be related to the patient's or the payer monetary status or benefit.
Medical necessity is the base to support the service provided. CMS provides a specific definition under the Social Security Act: "no Medicare payment shall be made for items or services that are not reasonable and necessary for the diagnosis or treatment of illness or injury or to improve the functioning of a malformed body member."
Please contact Shawn Bromley at 978-236-1704 or shawn.m.bromley@lahey.org if you have questions related to coding, billing and/or medical necessity documentation requirements.
Coding Corner - April 2019 Edition
E/M Coding and the Documentation Guidelines: Putting It All Together:
Key components that make up an established patient visit are History (HPI), Exam and Medical Decision Making (MDM). An established patient visit will need to have 2 of 3 key components and must meet medical necessity.
The underlying problem for wrong billing of these services includes the following:
Lack of understanding on how the coding system for E/M works
Inaccurate and incomplete documentation to support the code billed
Supporting medical necessity
Downcoding (documentation supports a higher level service code)
Upcoding (documentation supports a lower level service code)c
Comparison coding and billing for level 99213 and 99214: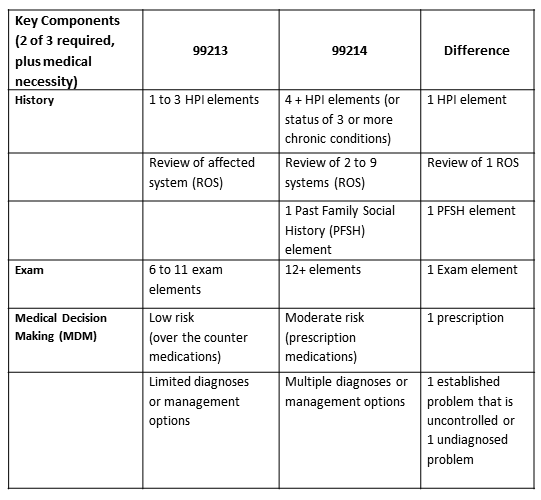 Many providers are consistently undercoding for their services because they have a limited understanding of the rules.  A working knowledge of the E/M coding is the best way to ensure optimal compliance and avoid inadvertent undercoding. Providers who understand the process of E/M documentation can optimize a higher rate of return for their services. If you know how to accurately bill for your services, there is a better chance you will get paid for what you really do.
Changes Coming in 2021
New rules for coding based on time
Code based on MDM alone
New blended payment structure for new and established office patients
New minimum documentation threshold for new and established office patients
New G code for increased reimbursement for primary care physicians
New G code for increased reimbursement for non-procedural specialty care services
New outpatient prolonged services code with decreased time threshold
A great resource for E/M coding guidance is: https://emuniversity.com/2019.html.
Please contact Shawn Bromley at shawn.m.bromley@lahey.org or 978-236-1704 if you have questions regarding E/M coding and billing.
Coding Corner - March 2019
Coding News from NEPHO
The Centers for Medicare & Medicaid Services (CMS) and the Office of Inspector General (OIG) recommend that health care providers routinely enlist independent parties to audit coding practices. Chart audits are a way to obtain feedback regarding your coding program and help in measuring quality.
Although the goals may generally be the same, coding audits can differ in several ways, including methodology type, accuracy definitions, and cost.
Coding Audit Methodologies
Coding audits can be retrospective, which is a review of submitted claims, or prospective, an analysis of pre-billed claims. They can also be random, targeted, or a mix of both, and a code-for-code or full-record analysis.
Establishing a regular external coding audit will have a high return on investment (ROI), helping you maintain the best coding practices for the well-being of your practice. Most importantly, it will help identify potential coding and documentation problems and reduce risk of lost revenue from denials.
Coding Audits Help To:
Determine if day to day operating procedures are compliant with current regulations
Prevent non-compliance issues from occurring
Reduce potential for over or underpayments
Reduce risk of improper documentation
Minimize risk of fraud
Ensure compliance with Medicaid and Medicare standards
Address areas of coding education opportunity
NEPHO Coding Audit Findings:
In an ongoing effort to ensure accuracy and compliant coding NEPHO performed an outpatient service chart audit review on three NEPHO physician practices. The findings addressed areas of opportunity for provider education. A trend identified included missing preventative screening ICD-10 diagnosis codes that were released October 1, 2018.  The initial review was done in January 2019 and follow-up review was completed in February 2019. The follow-up coding review found that all 3 practices had improved with capture of the new ICD-10 diagnosis codes for screening encounters.
 Z00-Z99 Factors influencing health status and contact with health services
81 Encounter for examination and observation of victim following forced sexual exploitation (ruled out)
82 Encounter for examination and observation of victim following forced labor exploitation (ruled out)
89 Encounter for examination and observation for other specified reasons (ruled out)
30 Encounter for screening examination for mental health and behavioral disorders, unspecified
31 Encounter for screening for depression
32 Encounter for screening for maternal depression
39 Encounter for screening examination for other mental health and behavioral disorders
40 Encounter for screening for unspecified developmental delays
41 Encounter for autism screening
42 Encounter for screening for global developmental delays (milestones)
49 Encounter for screening for other developmental delays
821 Contact with and (suspected) exposure to Zika virus
83 Immunization not carried out due to unavailability of vaccine
430 Family history of elevated lipoprotein(a)
438 Family history of other disorder of lipoprotein metabolism and other lipedemia
Please contact Shawn Bromley at shawn.m.bromley@lahey.org  and/or 978-236-1704 if you would like to have a coding audit performed at your practice or have questions related to coding.
Coding Corner - February 2019 Edition
CPT Coding and Billing Updates for 2019
Here are the most recent 2019 coding updates that physician's should be aware of to ensure accuracy in coding and billing for MRI Breast Exams and new codes of Chronic Care Management.
MRI-Based Breast Exams Contrast Updated Codes:
The 2019 change deleted codes 77058 and 77059 and resulted in an expansion associated with four codes:
77046: Unilateral MRI breast exams without contrast
77047: Bilateral MRI breast exams without contrast
77048: Unilateral MRI breast exams, with/without contrast
77049: Bilateral MRI breast exams, with/without contrast

Codes 77046 and 77047 encompass computer-aided detection (CAD), including CAD real-time lesion detection, characterization and pharmacokinetic analysis. This change has eliminated the need to separately add the HCPCS code 0159T for situations involving CAD.
New Code for Chronic Care Management:
CPT code updates for 2019 include chronic care management (CCM). This update allows providers to bill for at least a half hour of their time.
99491: Chronic care management services provided personally by a physician or other qualified healthcare professional for at least 30 minutes.
This code is billed for CCM coordination sessions that are more than 20 minutes but less than an hour.
Coding Corner - January 2019 Edition
Modernizing Medicare Physician Payment by Recognizing Communication
Technology-Based Services
CMS has issued its final 2019 Physician Fee Schedule and Quality Payment Program, opening the door to reimbursement for connected care services that enable providers to manage and coordinate care at home. The changes are focused on three new CPT codes that separate Remote Patient Monitoring (RPM) services from telehealth.
The new CPT codes are:
CPT code 99453:"Remote monitoring of physiologic parameter(s) (e.g., weight, blood pressure, pulse oximetry, respiratory flow rate), initial; set-up and patient education on use of equipment."
CPT code 99454:"Remote monitoring of physiologic parameter(s) (e.g., weight, blood pressure, pulse oximetry, respiratory flow rate), initial; device(s) supply with daily recording(s) or programmed alert(s) transmission, each
30 days."
CPT code 99457:"Remote physiologic monitoring treatment management services, 20
minutes or more of clinical staff/physician/other qualified healthcare professional time in a calendar month requiring interactive communication with the patient/caregiver during the month."
CMS has finalized two newly defined physician's services utilizing communication technology. These two services are the brief communication technology based service, or virtual check in (HCPCS code G2012), and the remote evaluation of recorded video and/or images submitted (HCPCS code G2010). These services will allow practitioners to decide whether an office visit or other medical service is needed, improving efficiency and convenience for both the practitioner and beneficiary.
HCPCS code G2012: CMS states the code allows "audio-only real-time telephone interactions in addition to synchronous, two-way audio interactions that are enhanced with video or other kinds of data transmission."  (Note: telephone calls that involve only clinical staff cannot be billed using HCPCS code G2012 since the code explicitly describes (and requires) direct interaction between the patient and the billing practitioner.)
HCPCS code G2010: CMS defines this code as; remote evaluation of recorded video and/or images submitted by an established patient.
Evaluation and Management (E/M) 2019 Documentation Updates
Beginning January 1, 2019, Medicare will allow ancillary staff to perform and record the chief complaint and history of present illness.
Additionally, for established patient office/outpatient visits, when the medical record already contains relevant information, Medicare will allow physicians to focus their documentation on what has changed since the last visit, or on pertinent items that have not changed, and not re-record the defined list of required elements. Physicians will still need to review prior data, update it as necessary, and indicate in the medical record that they have done so.
These updates were approved to help improve physician's workflow to provide more focus on the patient during the office visit.
CMS has delayed additional E/M additional documentation changes until 2020 and 2021. Updates will be made available as more information is released from CMS.
Contact Shawn Bromley at shawn.m.bromley@lahey.org or 978-236-1704 if you are interested in more information regarding the new Telehealth services or need additional guidance on the updated E/M documentation requirements.
Coding Corner - December 2018 Edition
ICD-10- CM Diagnosis Codes Reset January 1, 2019
A major component of the Hierarchical Condition Categories (HCCs) model is that the individual HCCs are only valid for one year. Regardless of the HCCs fundamental chronicity, on January 1, 2019 the patient's HCC listing will be blank.
For example, a patient with diabetes with complications would need to have a face-to-face encounter with a provider where diabetes is discussed and documented for the appropriate
HCC to be reported in the new base year.
There are two important aspects to remember when HCC coding:
Analyzing health record documentation to identify reportable conditions
Accurately assigning ICD-10-CM codes to these conditions
Providers and risk adjustment professionals need to work together to ensure quality and thorough documentation of patient conditions to support risk adjustment and quality reporting initiatives. With such an emphasis on yearly code capture, provider education becomes a higher priority early in the year to prevent the loss of HCC diagnosis.
The NEPHO will be working to educate providers beginning early 2019 to help continue efforts to impact the patient's health status.
The following coding education will be a focus for 2019:
Risk Adjustment Accurate Documentation and Coding Practices
Importance of Risk Adjustment
Risk Adjustment Auditing and Monitoring
The NEPHO will be working with providers directly to address education opportunities and to ensure accurate coding and reporting of HCCs is continued through the year. Working together can help ensure compliance and optimal financial results under HCC risk adjustment contract models.
Please reach out to NEPHO directly if you would like to review risk adjustment education opportunities for your practice. Contact Shawn Bromley at m.bromley@lahey.org or call 978-236-1704.
Coding Corner - November 2018 Edition