Making a Positive Impact in Care Management
The Northeast PHO (NEPHO) Care Management Team is proud to be working closely with our NEPHO providers to assist them and our patients with care coordination in order to improve quality and efficiency. The team provides case management outreach and support to the NEPHO high risk population under our Medicare ACO and commercial payor contracts.
NEPHO has a wealth of experienced professionals who interact within an integrated team model to better serve patients along the continuum of care. Our team provides transitional care, complex case management, disease management education, self-management education and community social service support to better serve our NEPHO providers, patients and families.
We are here to help!
Our team consists of Certified Nurse Care Managers and Licensed Independent Clinical Social Workers. We are also assisted with Medication Therapy Management (MTM) by the NEPHO Manager of Pharmacy Services, Carol Freedman and her team.
As always, we are here to assist you with the care management of your Medicare ACO population. We can be reached via telephone, email or Epic inbasket. Please don't hesitate to reach out with any questions or concerns.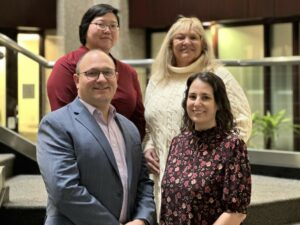 Top Row: Julie Wang, MSN, RN, Jean St. Peter, RN, CCM
Bottom Row: Joseph Peppe, MD, Ali Wiklund, MSN, FNP-BC
Contact our NEPHO Care Managers by calling/contacting a specific colleague below.
Medical Director, Northeast PHO