PROM: Depression Screening
PCPs have a new measure to contend with in 2018. The Depression Screening measure is a patient reported outcome measure or PROM. A PROM is a method of collecting patients' views on their symptoms, functional status and quality of life from a health perspective at various times and/or stages of illness or treatment. The Depression Screening measure is used to collect baseline PHQ-9 scores and follow up PHQ-9 scores that are greater than 9.  Key components of the measure are as follows:
Any BCBS patient 18 years old and up who has a face-to-face encounter with a member of the health care team is eligible for assessment.
A minimum of 120 PCPs, from at least 20 practices, across the Lahey network are required to screen patients.
A minimum of 30% of patients with initial assessment score >9 have a follow-up screening 3-12 months after the initial assessment.
 PHQ-9 documented in the medical record within last 365 days will count as an initial assessment. If the patient was screened and was positive, then they would be part of the follow-up screening process.
See screenshots below to learn where the PHQ-9 is located in both GE and Epic EMRs.
GE PHQ-9 located on the Nurse Intake Form when generating an office note: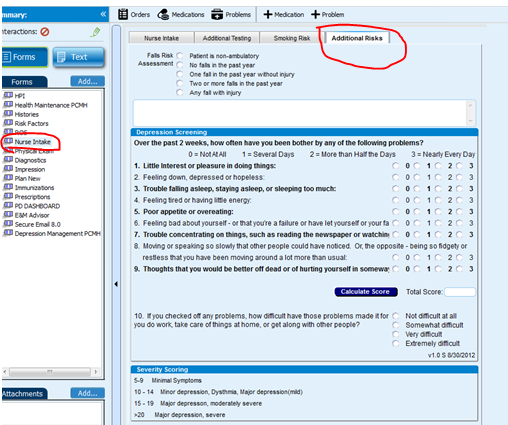 Epic PHQ-9 located in the flow sheet when generating an office note: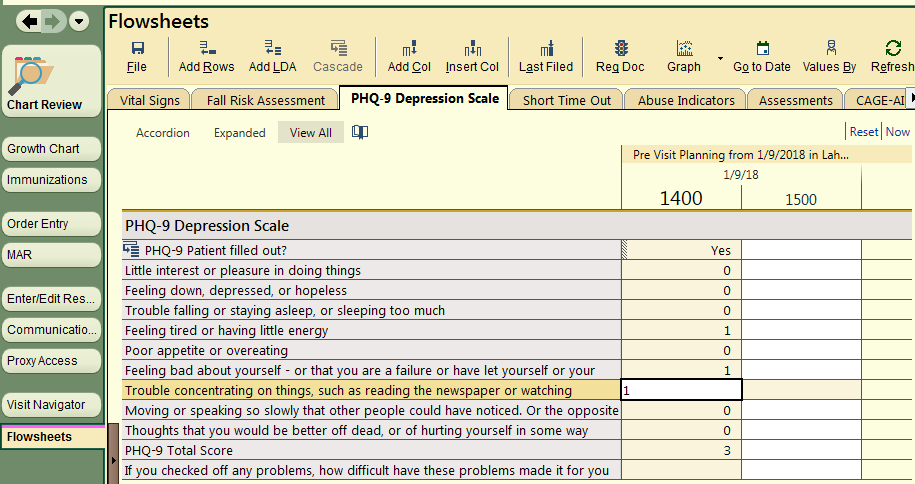 Contact Liz Isaac 978-236-1767 or Stephanie Cunningham 978-236-1748 of the PHO Quality Team if you would like assistance in developing a workflow that incorporates the use of the PHQ-9.