---
NEW PROVIDERS
---
Elie Balesh, MD
Beverly Radiological Associates
85 Herrick Street
Beverly, MA 01915
Phone: 978-922-3000
Fax: 978-927-3534
Jennifer Hoffman, MD
Coastal Orthopedic Associates
77 Herrick Street Suite 201
Beverly, MA 01915
Phone: 978-927-3040
Fax: 978-927-0443
Priya Shastri, MD
North Shore Neurology & EMG
83 Herrick Street Suite 1001
Beverly, MA 01915
Phone: 978-922-2226
Fax: 978-922-2269
David Lesnik, MD
North Shore ENT
104 Endicott Street Suite 100
Danvers, MA 01923
Phone: 978-745-6601
Fax: 978-624-4040
NEWS FROM NEPHO

FEBRUARY 2022 EDITION
IN THIS ISSUE:



---
---
PRACTICE CHANGES/UPDATES
---
Bart Blaeser, DMD of Lynn and Peabody Oral Surgery has resigned effective 3/1/2022
North Shore Neurology & EMG has changed EMRs from GE to Athena Clinicals
LeRoy Kelley, DPM of NKA Cape Ann Foot & Ankle has relocated from 1 Blackburn Drive Gloucester, MA to 5 Blackburn Center Gloucester, MA 01930 Phone: 978-281-2550 Fax: 978-325-9044
---
NEW FEE SCHEDULES
---
New fee schedules have been posted to the NEPHO website https://nepho.org/fee-schedules/
The new fee schedules, effective January 1, 2022, include:
Medicare rates and RVUs

BCBS HMO and PPO rates

Tufts HMO and PPO rates
You have the option to look up rates by CPT code or download a specialty specific fee schedule. You will need to log in to the site to see this section.
If you have questions about the fee schedule site, please contact Nick Catino at 978-236-1773 or nicholas.catino@lahey.org.
---
NEPHO TOP DOCTORS 2022
---

Congratulations to our NEPHO Physicians who were Recognized in Boston Magazine's 2022 'Top Doctors'

Each year, Boston Magazine partners with healthcare researcher Castle Connolly Medical Ltd. to create a definitive list of the best doctors in Boston, including hundreds of experts in fields such as dermatology, cardiology, orthopedics, pediatrics and more. 
David J. Lesnik, OTOLARYNGOLOGY
Katherine S. Masterpol, DERMATOLOGY
Jonathan S. Silver, CARDIAC ELECTROPHYSIOLOGY
Rita M. Sneeringer, REPRODUCTIVE ENDOCRINOLOGY/INFERTILITY
Benjamin A. Solky, DERMATOLOGY
---
PAYOR UPDATES
---
AllWays Health Partners
Coverage for blood pressure cuffs 
AllWays Health Partners understands the importance of our member's active participation in their treatment plan. Therefore we would like to make providers aware that members have access to blood pressure cuffs through their pharmacy benefit as long as they have pharmacy coverage through AllWays Health Partners at no cost to the member. The member would need a prescription to be sent into the pharmacy for one of the blood pressure cuffs listed below. We also have coverage for other more specialized BP cuffs through the DME benefit.
These are the BP cuffs we allow to process on the pharmacy benefit at $0 cost to the member.
Covered Blood Pressure Monitors
Omron BP760N 7 Series (NDC# 73796-0267-60)

Omron BP Upper Arm Series 5 (NDC# 73796-0267-25)

Omron BP Upper Arm Series 3 (NDC# 73796-0710-02)
Blue Cross Blue Shield of Massachusetts
Medical Policy Update: Medicare Advantage Management 
Policy updated to include prior authorization requirements for Medicare PPO. The following policies were added: MP 365 Manual and Power Operated Wheelchairs; MP:369 Ostomy Supplies; MP 370 Urological Supplies. To view the complete policy, click here.
New Resources for at-Home COVID-19 Testing
Blue Cross Blue Shield of Massachusetts announced that members can now visit a preferred pharmacy or use mail order to get authorized COVID-19 at-home tests for $0. Blue Cross is currently covering the cost for up to eight FDA-authorized, self-administered COVID tests per commercial member per month for personal, diagnostic use, without the need for prior clinical assessment. To view the complete notification, click here.
CIGNA
Over-the-counter testing
Consistent with new federal guidelines for private insurers, Cigna commercial will cover up to eight over-the-counter (OTC) diagnostic COVID-19 tests per month (per enrolled individual) with no out-of-pocket costs for the tests. This coverage began January 15, 2022 and continues through the end of the PHE (currently through April 15, 2022).
Please note that while Cigna Medicare Advantage plans do fully cover the costs for COVID-19 tests performed in a clinical setting, costs of at-home COVID-19 tests are not a covered benefit at this time.
Additionally, we encourage you to remind your patients that the Federal Government is now offering four free at-home test kits per household with no cost. Your patients can order the free at-home COVID-19 testing kits at COVIDtests.gov.
Coverage of COVID-19 treatments
As a reminder, Cigna commercial and Cigna Medicare Advantage cover FDA emergency use authorized (EUA) treatments of COVID-19, including monoclonal antibody treatments. This includes new antiviral medications PaxlovidTM and molnupiravir, as well as Remdesivir infusions when administered in an inpatient or outpatient setting.
Medicare
COVID-19: Medicare Will Cover Free Over-the-Counter Tests
As part of the Biden-Harris Administration's ongoing efforts to expand Americans' access to free testing, people in either Original Medicare or Medicare Advantage will be able to get over-the-counter COVID-19 tests at no cost starting in early spring. Under the new initiative, Medicare beneficiaries will be able to access up to eight over-the-counter COVID-19 tests per month for free. Tests will be available through eligible pharmacies and other participating entities. This policy will apply to COVID-19 over-the-counter tests approved or authorized by the U.S. Food and Drug Administration (FDA). For additional information, click here.
Harvard Pilgrim Health Care
Update to Non-Covered Services
As of Jan. 1, 2022, Harvard Pilgrim has added recently released codes to the New Technology Assessment and Non-Covered Services Medical Policy, and they will be considered non-covered. In addition, effective for dates of service beginning March 1, 2022, Harvard Pilgrim is adding the attached codes to the policy, which will be considered experimental/investigational and will no longer be covered as of that date. Please click here to view these codes.
COVID-19 Information and Resources (COVID-19/Telemedicine/Telehealth)
Harvard Pilgrim Health Plan has updated the Latest Updates as follows: Updated COVID testing section with at-home testing coverage for Medicare Advantage members. For additional information and to view the notification, click here.
Factor in Social Determinants of Health for Improved Outcomes
Social Determinants of Health (SDoH), socioeconomic and environmental factors that can impede or improve health, have always been a reality, but the trend of payers and providers factoring them into the impact on patients' overall health is more recent.
Recently, the Centers for Disease Control and Prevention (CDC) National Center for Health Statistics (NCHS) updated the ICD-10-CM code set with 11 new diagnosis codes describing SDOH. The new Z codes were created to provide additional information regarding SDOH data such as housing, food insecurity, or transportation.
Addressing a patient's health-related social needs can lead to better health outcomes and lower total health care costs. Harvard Pilgrim encourages providers to use the specialized SDoH ICD-10 codes whenever possible, as they help to provide a more complete picture of the member. Below is a list of the new Z codes that have been added to the diagnosis classification:
Under category Z55 (Problems related to education and literacy)
5 – Less than a high school diploma
Under category Z58 (Problems related to physical environment)
6 – Inadequate drinking-water supply
Under category Z59 (Problems related to housing and economic circumstances)
00 – Homelessness unspecified
01 – Sheltered homelessness
02 – Unsheltered homelessness
41 – Food insecurity
48 – Other specified lack of adequate food
811 – Housing instability, housed, with risk of homelessness
812 – Housing instability, housed, homelessness in past 12 months
819 – Housing instability, housed unspecified
89 – Other problems related to housing and economic circumstances
For more information, refer to CMS.
Tufts Health Plans
Submitting Newborn Claims Appropriately (Tufts Health Together, Tufts Health Unify)
As a reminder, MassHealth requires that providers bill for services for newborn children of MassHealth members separately and not under the mother's member ID number. This requirement applies to Tufts Health Together and Unify plans. Inpatient hospital providers should use MassHealth's Eligibility Verification System (EVS) to determine newborn eligibility status and submit claims to the appropriate payer with the newborn's ID number. If providers are unable to find eligibility information for the newborn in the EVS system, claims for the newborn should be submitted directly to MassHealth. For additional information and to view the entire notification, click here.
Correct Billing for Mid-Level Practitioners
To help ensure appropriate provider reimbursement, it is important claims include the appropriate provider taxonomy coding for care rendered by mid-level practitioners, such as physician assistants, nurse practitioners, clinical nurse specialists, and certified registered nurse anesthetists. For additional information and to view the entire notification, click here.
---
PROVIDER RELATIONS
---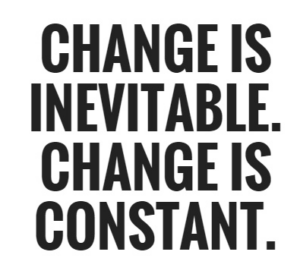 Things are constantly changing with NEPHO practices – it truly is inevitable. As a reminder, please reach out to the Provider Relations Department periodically to request updates or assistance in creating provider lists. Examples of frequent outreach we receive include and are not limited to:
Primary Care Providers with open panels for patients transitioning out of Pediatric Care. 

Primary Care Providers with open panels for Special Needs patients

transitioning out of Pediatric Care.

NEPHO PCP practice rosters used to update EMR mapping tied to billing/referral network identification.
Please do not hesitate to reach out to Alyicia Messelaar at alycia.messelaar@lahey.org for such requests. We are here to help bring ease to both the practices and the patients you serve. 
---


Virtual Networking videos from NEPHO providers can be found at https://www.nepho.org/virtual-networking/.
Please reach out to Alycia Messelaar at alycia.messelaar@lahey.org if you are interested in being featured in a Provider Spotlight of Virtual Networking video. 

Please reach out to Alycia Messelaar at alycia.messelaar@lahey.org to keep NEPHO informed of changes in practice schedules due to the current resurge of COVID-19 (office closures, limited office hours, scope of appointment, telehealth use, phone line to reach staff, etc.) or if you have questions about other practice schedules.   
---
PROVIDER DIRECTORY
---

Click here for the PDF version of the updated PHO Directory as of February 2022.  For your convenience Click here for the separate Specialists Only PDF directory to refer to as needed.
Please share this directory with your office by printing or showing them how to visit us online for an easy to use directory search tool!
Note: Primary care providers (PCPs) in the BILH Performance Network no longer need to submit an administrative referral to refer Blue Cross Blue Shield of MA, Harvard Pilgrim Health Care, or Tufts Health Plan members to a specialist in the BILH Performance Network. Please reach out to Alycia Messelaar, Alycia.Messelaar@lahey.org, regarding questions pertaining to providers within the BILHPN Network. 
As a reminder, it is important to use the NEPHO Physician Directory when referring to a specialty physician.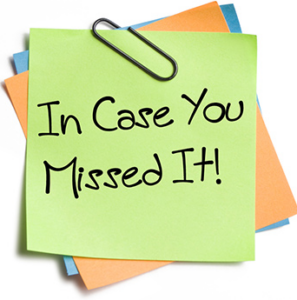 Here at the PHO, we completely understand how overwhelming it can be to stay on top of all the email communications that are being sent on a day-to-day basis. In an effort to keep you well informed, below you will find a highlight of key memos that have been sent out over the last month – JUST in case you missed it!
Monthly BILH Pharmacy Newsletters

2022 Physician Incentive Program

New Teamwork Recognition

Mindfulness and Compassion CME

BILH COVID Therapeutics Update/Oral Antiviral Meds Avail at Walgreens/FDA Forces E25Bio Test Kits off Market

Genetic Testing Authorizations

Open Meeting I Invites
Please reach out to Alycia.Messelaar@lahey.org for a specific communication that you are unable to find.
---
PHARMACY UPDATE
---
February 2022 Pharmacy Update / NEPHO Newsletter
Direct Oral Anticoagulant (DOAC) Guidelines
Please see the BILH DOAC Selection Guide to assist providers with the selection of agents for ambulatory patients. Valuable information such as potential drug interactions and indications are included.  Also, a DOAC Coverage Chart with common payer cost and coverage information for most agents has been provided.
Our colleagues at Mount Auburn IPA created an abbreviated 2-page DOAC Dosing and Drug Interaction Guide for quick reference.
As a reminder, the Anticoagulation Management Services at Lahey Outpatient Center can be reached for warfarin referrals via Epic using REF111 and DOAC referrals can be placed using REF1333 or by FAXING referrals to 978-304-8493.  Please contact Anticoagulation Management Services at Lahey Outpatient Center @ Danvers with any questions.  Telephone number 978-304-8458.
Medicare Part D 2022 / Resource Tip Sheet
In January of each year Medicare Part D changes deductible and other thresholds for patient out of pocket expenses.  Please see the Medicare Part D 2022 / Resource Tip Sheet with valuable information that can be printed for your patients.
For more information please contact Carol Freedman at carol.freedman@lahey.org or at 978-380-4089.
---
QUALITY
---
In March the NEPHO Quality team will host a Primary Care Office Manager Quality meeting. We are planning for one mid-morning and one noon session, both with identical content. The topics we will be covering include 2022 Quality Measures, Current Quality Initiatives, Quality Reporting, Efficiency, and more. We will also hear an update on hospital initiatives related to reducing readmissions. Please be on the lookout for a Hold The Date invitation that will be coming out soon. Feel free to invite any practice colleagues who work on quality and would benefit from hearing this information. If you have other topics you would like covered or would like to send questions in advance of the meeting, please send them to Jennifer Andersen at Jennifer.s.andersen@lahey.org.
---
CODING TIP OF THE MONTH
---
OPTUM Newsletter – February – Focusing on Conditions of the Heart
Quarter 1 2022 Risk Adjustment Coding Review
Hierarchical Condition Categories (HCC) are used to reimburse Medicare Advantage and Commercial plans based on the health status of their members. HCCs are diseases and conditions that are organized into body systems or similar disease processes. The top HCC categories include:
Major depressive and bipolar disorders

Asthma and pulmonary disease

Diabetes

Specified heart arrhythmias

Congestive Heart Failure

Breast and prostate cancer

Rheumatoid arthritis

Colorectal, breast, kidney cancer
Patients are often assigned to more than one category because the combination of demographic information and risk factors can cumulate to represent more than one kind of condition or potential for chronic condition. Providers must report on each patient's risk adjustment diagnosis and that must be supported by medical necessity and encounter documentation. That means the patient Risk Adjustment Factor (RAF) score is calculated by demographics (age, gender, living situation) and their health status. Each specific diagnosis is used to determine the RAF, and the score is used to calculate not only the payer reimbursement, but also predict potential future costs associated with each patient. NEPHO is currently working with multiple practices to ensure Risk Adjustment Coding is captured on an annual basis. A few project initiatives include the following:
Bi-monthly coding and billing webinars

New provider coding onboarding

Epic problem list clean-up

Telehealth program enhancement
The NEPHO Coding Team recently performed an audit that identified the following areas of coding opportunity. These examples have been updated to help provide guidance to practices that are working to improve risk adjustment coding capture:
Document and code all chronic conditions discussed and documented during a patient encounter: Chronic and/or permanent diagnoses should be documented as often as they are assessed or treated. 

In-Person & Telehealth Example: Patient with diabetes II and CKD 3 stage 3a: Code E11.22, N18.31 – provider is also helping to manage recurrent depression and prescribing Zoloft every 3 months – Code: F33.8 (recurrent depression) – provider is helping to manage hypertension 2nd to diabetes – Code: I15.2

Clarify whether a diagnosis is current or "history of": Anything that is listed as "repaired" or "resolved" should not be coded as current. Providers should be made aware of Z codes that are appropriate for these scenarios. 

Example: Neoplasms that are current code to ICD-10 codes in Chapter 2: Neoplasms. Code: C61 (prostate cancer)
Example: Neoplasms that are no longer present should be coded to Chapter 18: History of Neoplasms. Code: Z85.46 (personal history of prostate cancer)

Update the patient's problem list regularly: Make sure all problems listed as active are appropriate and haven't been brought forward (copied and pasted) in error. 

Example: Morbid Obesity with BMI > 40 Code: E66.01 BMI>40 Z68.41 – Patient lost 100 lbs updated Coding: E66.3 BMI >32 Z68.32

Providers should document conditions they monitor and treat: Diagnosis codes are not limited to what brought the patient to the office today. Any condition the provider monitors, evaluates, assesses, or treats should be included in the documentation. 

Example: Patient has visit for fever and the provider also manages the patients' hypertension – Code R50.8 (fever), I10 (hypertension)

Avoid using generic or unspecified codes: Code to the highest level of specificity. Use of generic or unspecified codes does not fully support medical necessity and the management of care for the patient. Payers need to have an accurate picture of the patient's health status. 

Example:  Congestive heart failure should be coded by type and acuity. The term congestive heart failure is considered nonspecific, outdated, and inadequate to fully describe the condition. Documentation should be present in the record of systolic and/or diastolic failure or dysfunction and acuity. Code: I50.31 (Acute diastolic congestive heart failure)

It is important to link manifestations and complications. Providers need to make the link between a manifestation and complication. Some terms that can be used to link conditions are "because of," "related to," "due to," or "associated with." 

Example: Peripheral Vascular Disease "due to" diabetes – Code: E11.51
Example: Diabetic Neuropathy "associated with" Peripheral Vascular Disease – Code: E11.40.
Please reach out to Shawn Bromley at shawn.m.bromley@lahey.org or 978-238-6902 if you would like to learn more about the impact of risk adjustment coding capture and/or would like additional education a provider or practice level.
---
PATIENT EXPERIENCE COMMENTS
---
Beverly Medical Associates, Beverly – 30 Tozer Road
Dr. Deborah Shih and the entire staff here are the best! From the people on the phone, to the receptionist that greets you, to the nurses and nurse practitioners, to the Doctors!!!
Dr. David Driscoll the staff, including receptionists are like family. We've been with then so many years! I always feel supported when relating to them & the mood in the office feels relaxed & happy!
Blackburn Primary Care, Gloucester – 1 Blackburn Drive
Dr. Jay Isaac is awesome! He listens to my concerns and questions and then provides easy to understand answers. I feel he cares about me and my goals for optimum health
Cape Ann Medical Center, Gloucester – 1 Blackburn Drive
I am very comfortable and confident with the staff at Dr. Janet Doran's office. I have found them to be very thorough, dependable, professional, courteous and respectful. I have complete confidence in their expertise and care of me. I would highly recommend them!
I have and will continue to recommend Dr. Yuliya Mandel. Cape Ann Medical Center is a wonderful team. Uplifting and friendly.
EMTAR, South Hamilton – 205 Willow Street
Dr. Michael Edwards I have absolute confidence in the care I receive from Dr. Edwards
Garden City Pediatrics, Beverly – 83 Herrick Street
We love Dr. John Dean and I recommend him to friends and random people all the time!
Excellent experience! Dr. Sheryl Silva and staff are always amazing! Thank you for everything you continue to do day in and day out throughout such uncertain times!
Dr. Eric Sleeper is a great pediatrician and is always respectful and cares for his patients and their families. The nurses are fantastic as well as the office staff.
Leonard Horowitz, MD, Danvers – 7 Federal Street
Dr. Leonard Horowitz Took time to listen & make comments very kind & considerate.
Danvers Family Doctors, Danvers – 140 Commonwealth Avenue
Dr. Subroto Bhattacharya

I love this practice! I tell friends and family to come here because the care is so good!

Excellent, thorough, conscientious and caring health care provider!
Essex County Primary Care, South Hamilton – 42 Asbury Street
Dr. Nicholas Avgerinos has a positive approach to patient care, professional and caring!
Lahey Primary Care, Danvers – 480 Maple Street
Dr. Kristina Jackson is so great! Awesome staff went above and beyond. As a new patient I can't recommend this practice enough!
Lahey Primary Care, Beverly – 900 Cummings Center
I am so very impressed with Dr. Andrew Lenhardt. He is by far the best doctor I have ever had. He is knowledgeable, caring, gentle and understanding. He takes time for me and listens to my questions and concerns, always. He has never given me a know-it-all attitude and works with me to find the best care for my body. He is top notch, and I always refer others to him.
I was impressed with Dr. Daniel McCullough, his office staff, and medical staff when he became my PCP about 14 years ago, and I am even more impressed today! Outstanding.
Lahey Primary Care, Beverly – 30 Tozer Road
Dr. Gail Ellis is always thorough and considering my particular history in her assessment of the current issue. She always takes time for any questions and is patient to listen.
Dr. Tina Waugh Outstanding care – could not recommend any higher! Great listener, sincere care, great staff and great sense of humor – I feel fortunate to have her as my primary care physician!
Lahey Primary Care, Beverly – 100 Cummings Center
Dr. Pierre Ezzi has always been concerned about my health and continues to provide good advice.
Lahey Primary Care, Danvers – 5 Federal Street
Dr. Mauri Cohen is an excellent diagnostician. He is kind, compassionate, calm, and thorough. He does not rush through the exam/visit and explains his findings.
Dr. Brent Fryling is amazing-very personable and understanding.
Lahey Health Primary Care, Gloucester – 298 Washington Street, 4th Floor
Dr. Victor Carabba Excellent primary care physician. Always listens to patient gives recommendations and follows through with treatment.
As always I look forward to my appointments with Dr. Karen Damico. Because she listens to my concerns and explains things to me if a way I can understand. I think the world of her, she's wonderful.
The staff are always helpful, welcoming and compassionate. Dr. Amy Esdale is very thorough and provides the best care to her patients.
Lahey Primary Care, Hamilton – 15 Railroad Avenue
I've been a patient of Dr. Laurence Gordon's for years. He is wonderful, I trust him implicitly and have referred many people to him. His staff is equally wonderful, always polite & concerned.
Whenever I return from an office visit I always comment on how happy I am with Dr. William Medwid. He takes time to listen, suggest, and always seems to care. He never leaves until he is sure all questions and concerns are answered.
Lahey Primary Care, Manchester – 192 School Street
Dr. Jana Oettinger is great. Answered all of my questions & very professional & caring
Very happy with Dr. Matthew Plosker's care. He is an excellent PCP.
North Shore Pediatrics, Danvers – 480 Maple Street, Danvers
Dr. David Danis provides the upmost best care for all of my children. He is kind, listens, and makes my kids feel comfortable in the office. He is the BEST pediatrician!
Brian Orr Pediatrics Gloucester – 1 Blackburn Drive
Dr. Brian Orr I am always treated with respect and care in this office. So appreciative of the excellent medical care my children can receive close to home!
---
PRACTICE RECOGNITION

---
The Northeast PHO recognizes colleagues who provide a positive experience for our patients, help us keep care local and meet our quality targets
This month's winner is:
Elizabeth Chiaradonna, Lahey Health Primary Care, Danvers, was recognized for her patient experience comment "The medical assistant, Elizabeth that roomed me was very friendly and made me feel very welcome to this new provider/practice as my previous provider had retired."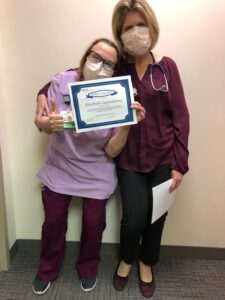 Elizabeth Chiaradonna and Dr. Margaret Legner
Please let us know if you would like to nominate a team member in your practice or another practice for the recognition program. We will deliver gift cards to the winners each month, and they will be announced here and in our website "Hot Topics" section.
Please be sure to look for the new winners in next month's issue!