---
NEW PROVIDERS
---
NEWS FROM NEPHO
OCTOBER 2022 EDITION
IN THIS ISSUE:
---
---
PRACTICE CHANGES/UPDATES
---
Coastal Orthopedic Associates will be relocating the Danvers practice location from 480 Maple Street Danvers, MA 01923 to 99 Conifer Hill Drive Danvers, MA 01923. Anticipated Move: 12/1/2022

REMINDER: Robert Tufts, MD of 480 Maple Street Suite 103 Danvers, MA 01923 is retiring as of 12/31/2022. Please reach out to Alycia Messelaar at Alycia.Messelaar@lahey.org if you have further questions regarding patients in need of sleep studies.
NP/PA Meeting
Date: Wednesday, November 9th, Noon
Speaker: Anthony Gualtieri, MD
Topic: Hip and Knee Pain, Explained
Location: Teams Meeting
RSVP: Alison.Wiklund@lahey.org
---
BILHPN ACUITY TRAINING
---
November dates for BILHPN Acuity Training are November 8 from 5:30-6:30pm and November 29th from Noon-1:00pm. 
The main topic includes: Conditions documentation overview with case studies: Diabetes, Obesity, Specified Heart Arrhythmias, Neoplasm, Depression, Senile Purpura, and Amputations.
To register for the November 8th training session, click here. 
To register for the November 29th training session, click here. 
Click here for more information.
---
KEEPING CARE LOCAL
---
As a reminder, the Northeast PHO (NEPHO) Referral Department has created a variety of top-tear "referral pads" that list in-PHO network providers by specialty.  These pads are handy at the point-of-care when a referral to a specialist is needed.  Simply tear off and give the ready-made list to your patients.  The specialists' contact information is included to facilitate scheduling a visit.
The following referral pads are available; click here to contact Ann at Ann.Cabral@Lahey.org to let her know what specialty list you need:
Asthma & Allergy
Beverly Hospital and Addison Gilbert Hospital Hernia Center
Cardiology
Dermatology
Endocrinology
ENT
Gastroenterology
General/Vascular Surgery
Infectious Disease
Nephrology
Neurology
Ophthalmology
Orthopedics
Pain Management
Physical Medicine and Rehab
Podiatry
Rheumatology
Urology
Wound Center
---
Indian Medical Associates of New England (IMANE) Gala
---
Dr. Deepa Jhaveri, Northeast PHO member and incoming IMANE President, and the team at IMANE would like to invite you to the annual Gala on Saturday, November 12, 2022 at the Four Points Sheraton in Wakefield, MA.
Registration is required and feel free to register a non physician friend or spouse.
Join us for a fun night of networking, drinks, delicious Indian food followed by live entertainment and dancing!
This would be a great opportunity to meet new colleagues from the North Shore and beyond and celebrate everything we do as healthcare professionals.
We look forward to meeting you.
To register, please go to: https://imanemd.org/event-4988391
For questions, please email deepa.jhaveri@lahey.org
Indian Medical Association of New England (IMANE) is a non-for-profit organization supporting professional & social opportunities for medical professionals of Indian Origin. For more information about us please visit our website www.imanemd.org.
November 12th, 2022
6:00pm – 10:00pm
Four Points Sheraton Wakefield
One Audubon Rd, Wakefield, MA 01880
---
PAYOR GRID
---
Please click here to view the recently updated Northeast PHO Health Plan Participation and Referral Grid. Please take a moment to share this with all staff members who may find this information helpful.
---
PHARMACY UPDATE
---
Hypertension & Diabetes References
The recent BILHPN Pharmacy Newsletter, October 2022, has several references for managing patients with Hypertension and Diabetes. Please click on the links within the newsletter that will provide you with the following references:
We highly recommend the Diabetes Focused Prescribing Guide (SGLT-2is /GLP1-RAs) to be printed and kept for provider reference, a great summary including some formulary coverage, dosing guidelines and management of concurrent therapies when newer agents are added to the regimen.
The Blood Pressure Monitor guide is also helpful to your patients when choosing a monitor for home use. The Patient Recording Log can be printed for patients to keep track of home results.
What Patients Should Know About Biologic and Biosimilars
Many of our patients are prescribed medications known as a biologic particularly if they have a disease such as cancer, rheumatoid arthritis, inflammatory bowel disease, multiple sclerosis or asthma. In some cases, a biosimilar may be prescribed in place of the biologic. Please see Biosimilar Basics for Patients, an excellent brochure that will help explain what a biologic is as compared to a biosimilar.
Paxlovid and Cardiovascular Medication Drug Interactions
Please see the JACC article entitled Cardiovascular Drug Interactions with Nirmatrelir/Ritonavir in Patients with COVID-19. A summary chart is below: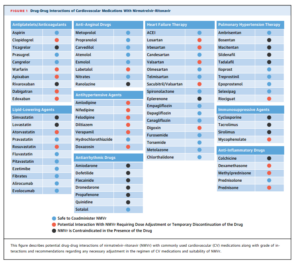 BILHPN Pharmacy Newsletters:
Each month the BILHPN Pharmacy Team publishes a valuable newsletter with current pharmacy related issues. You can access them by using the www.nepho.org Website under Pharmacy Resources*. 
*please note, a password is now required to log into Pharmacy Resources on the www.nepho.org website. If assistance is needed, please contact Alycia Messelaar at Alycia.Messelaar@lahey.org.
For more information please contact Carol Freedman at carol.freedman@lahey.org or at 978-380-4089.
---
POPULATION HEALTH UPDATE
---
November is Diabetes Awareness Month 
Statistics:
Approximately 476,687 people in Massachusetts, or 8.4% of the adult population, have diagnosed diabetes.

An additional 144,000 people in Massachusetts have diabetes but don't know it, greatly increasing their health risk. 

There are 1,743,000 people in Massachusetts, 31.8% of the adult population, who have prediabetes with blood glucose levels that are higher than normal but not yet high enough to be diagnosed as diabetes. 

Every year an estimated 41,210 people in Massachusetts are diagnosed with diabetes

Medical costs for people with diabetes are ~2.3x higher than those who do not have diabetes

In America, diabetes is the leading cause of new vision loss in adults 18-64
Disparities: African Americans, American Indians, Alaska Natives, Hispanics/Latinos and older adults are at higher risk of losing vision or going blind from diabetes

An annual diabetic eye exam could prevent 95% of vision loss caused by diabetes
Eye Exams: 
Please continue to encourage your patients with diabetes to have their routine dilated eye exam performed

NEPHO Ophthalmology referral pads are available for your office. If you need referral pads, please c

ontact Ann Cabral at Ann.Cabral@lahey.org

EPIC providers: 

.NEPHOEYE Smartphrase can be included in the after visit summary for patient reference
Evening Clinics: 
Patients with diabetes and/or hypertension are invited to come to one of our evening clinics

They will receive education, a free BP check, and a free A1C check (if needed)

Home BP cuffs can also be checked for accuracy

Please refer patients to Laureen Viel at Laureen.Viel@Lahey.org or 978-236-1746 
To print and distribute the below flyer, click here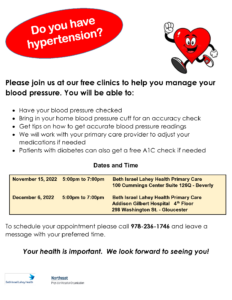 If you have a patient that may benefit from phone outreach from our clinical team, concierge scheduling of an eye exam, please contact Ali Wiklund, FNP-BC, NEPHO Director of Population Health at 978-236-1770 or Alison.wiklund@lahey.org. 
Resources: 
https://diabetes.org/get-involved/community/american-diabetes-month 
https://diabetes.org/sites/default/files/2022-04/ADV_2022_State_Fact_sheets_all_rev_MA-4-4-22.pdf 
---
PROVIDER RELATIONS
---

Please click here to take a moment to read the Provider Spotlights!
If you would like to be featured on the PHO website, please reach out to Alycia Messelaar at alycia.messlaar@lahey.org or 978-236-1784.
---

---

Click here for the PDF version of the updated PHO Directory as of October 2022. For your convenience click here for the separate Specialists Only PDF directory to refer to as needed.
Please share this directory with your office by printing or showing them how to visit us online for an easy to use directory search tool.
Note: Primary care providers (PCPs) in the BILH Performance Network no longer need to submit an administrative referral to refer Blue Cross Blue Shield of MA, Harvard Pilgrim Health Care, or Tufts Health Plan members to a specialist in the BILH Performance Network. Please reach out to Alycia Messelaar, Alycia.Messelaar@lahey.org, regarding questions pertaining to providers within the BILHPN Network. 
As a reminder, it is important to use the NEPHO Physician Directory when referring to a specialty physician. 
---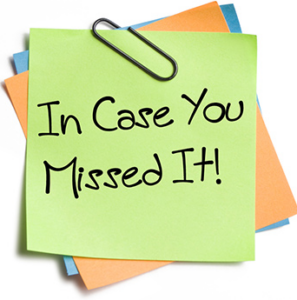 Here at the PHO, we completely understand how overwhelming it can be to stay on top of all the email communications that are being sent on a day-to-day basis. In an effort to keep you well informed, below you will find a highlight of key memos that have been sent out over the last month – Just in case you missed it!
Monthly BILH Pharmacy Newsletters

COVID 19 Treatment Update – Shift in Circulating Variants 

BILHPN | Health Plan Orientation – Provider Office Staff Zoom Webinar | CIGNA

 

– 10/20/2022 

SSRIs and Beyond – Meeting follow up resources 

BILHPN Participation in MassHealth ACO sessions (PCP specific) 

WellSense BILHPN Alliance Newsletter: October

Pediatric Environmental Health Grand Rounds Series

Mindfulness and Compassion CME participation sponsor 
Please reach out to Alycia.messelaar@lahey.org for a specific communication that you are unable to find.
---
CODING TIP OF THE MONTH
---
OPTUM NEWSLETTER – October- Focusing Cancer
---
Fall Risk Screening
Coding for fall risk screenings varies depending on whether the screening took place during an Annual Wellness Visits (AWV) or a general office visit. There are 2 CPT II codes to choose from 1100F or 1101F. CPT II code 3288F would be added along with either 1100F or 1101F to indicate a fall risk assessment was completed.
1100F – Patient screened for future fall risk; documentation of 2 or more falls in the past year or any fall with injury in the past year
1101F – ​Patient screened for future fall risk; documentation of no falls in the past year or only ONE fall without injury in the past year
​3288F​ – indicate a fall risk assessment was completed(Should be used with either 1100F or 1101F)​
If patients are screened during an AWV, Using additional CPT II performance tracking codes on the claim, such as the 1100F code, will help indicate if the patient has documented falls in the past. To indicate that a patient has had no falls within the past year or one fall without injury, the 1101F code should be used. Additionally, the 3288F code should be used with the functional status CPT II codes (1100F, 1101F) to indicate a fall risk assessment was completed.
If the patient is seen for a general routine encounter, the specific CPT/HCPCS code used would be based on the reason for the visit and time spent with the provider. These codes can range from 99201 to 99350. The CPT II codes 1100F, 1101F and 3288F are suggested in this scenario to ensure the screening "gap" is closed, as this may be a quality performance measure. ICD-10 diagnostic codes are also suggested for any encounter, regardless of AWV, routine or physical exam encounters. These codes may vary and are applicable to the patient's medical history and current health status at the time of the encounter, such as Z91.81 "At Risk for Falling, History of failing."
Please reach out to Jessica Bryan at jessica.m.bryan@lahey.org if you have questions regarding the new ICD-10 CM Coding Updates. 
---
PATIENT EXPERIENCE COMMENTS
---
Beth Israel Lahey Health Primary and Specialty Care, Beverly – 30 Tozer Road Suite 203
Dr. Alyssa Handler – Good positive and upbeat attitudes of front office and lab staff. They are fun and enjoyable to interact with.

 

Dr. Deborah Shih is a wonderful doctor. I am lucky to have her as my PCP.

 
Beth Israel Lahey Health Primary Care, Beverly – 30 Tozer Road 
Dr. Spencer Amesbury presented compassionately, competently, and communicatively.

 

Dr. Gail Ellis – I always feel I am listened to and I can trust the advice I receive. She sees me as an individual.

 

Dr. Tina Waugh is an extremely good listener, informative, and compassionate.

 
Beth Israel Lahey Health Primary Care, Beverly – 100 Cummings Center 
Dr. Pierre Ezzi has been my primary for quite some time and I am very comfortable with him and his entire staff.

 
Beth Israel Lahey Health Primary Care, Beverly – 900 Cummings Center 
Dr. Andrew Lenhardt is a highly skilled compassionate physician.

 

I loved Dr. Daniel McCullough. I will absolutely recommend him to everyone I know! Everyone at the office is wonderful!

 
Beth Israel Lahey Health Primary Care, Danvers – 5 Federal Street 
I am very pleased with this office – My PCP Dr. Margaret Legner, her support team & the front desk reception ladies.

 
Beth Israel Lahey Health Primary Care, Danvers – 480 Maple Street 
I have been a patient of Dr. Kristina Jackson since she started her practice. She is wonderful to me ALWAYS.

 
Beth Israel Lahey Health Primary Care, Gloucester – 298 Washington Street 4th Floor 
Dr. Victor Carabba is the most kind, caring and understanding doctor I know. He listens well and is very compassionate.

 
Beth Israel Lahey Health Primary Care, Hamilton – 15 Railroad Avenue 
Dr. Laurence Gordon is the best primary care physician I've ever had!

 

Dr. William Medwid is the BEST! He gives me wonderful care.

 
Beth Israel Lahey Health Primary Care, Manchester – 195 School Street 
Dr. Jana Oettinger's care for patients is very evident. I am fortunate to have her as my PCP.

 
Cape Ann Pediatricians, Gloucester – 298 Washington Street 
Dr. Jeffrey Stockman – I was a patient of this office/provider as a child and all 3 of my children have come here since birth. I wouldn't want any other practice responsible for my children's health.

 
Essex County Primary Care, South Hamilton – 42 Ashbury Street 
Staff very nice & helpful. Dr. Nicholas Avgerinos pleasant, sense of humor & explains in MY words.

 
Garden City Pediatrics, Beverly – 83 Herrick Street 
Dr. Suzanne Graves is one of the most highly regarded physicians in MA. We have the utmost respect for her and love the care we receive. We are grateful for her. 

 

We have loved our experience with Dr. Ian Sklaver and Garden City Pediatrics. They represent to us the gold standard of care for keeping babies and children healthy and safe. Dr. Sklaver is incredibly thoughtful, considerate, kind, articulate, and knowledgeable. He and his staff have always met our daughter's medical needs, and it is a delight to come into the office–everyone is warm, kind, and welcoming.

 
North Shore Pediatrics, Danvers – 480 Maple Street 
We love it here! My son is super comfortable with Dr. Shannon Dufresne.

 

Dr. Thomas Seman and his staff are amazing. We are so lucky to have them care for both of our children!

 
Thompson Medical Associates, Gloucester – 9 F Dr. Osman Babson Road 
I had a great visit with Dr. Candace Thompson. I recommended this practice to people before I left the parking lot!!

 
---
PRACTICE RECOGNITION

---
The Northeast PHO recognizes colleagues who provide a positive experience for our patients, help us keep care local, meet our quality targets and support their colleagues.
This month's winners are: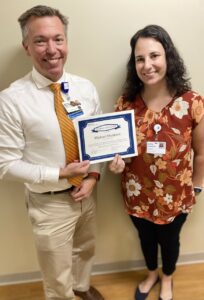 Michael Muldoon, Addison Gilbert and Beverly Hospitals, was recognized for outstanding year-long support and collaboration with NEPHO's population health team regarding unhealthy blood pressure, and other quality measures.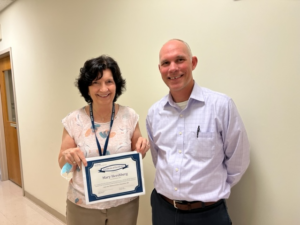 Mary Hershberg, Cape Ann Medical Center, was recognized for collaborating with NEPHO Quality team to improve care for patients.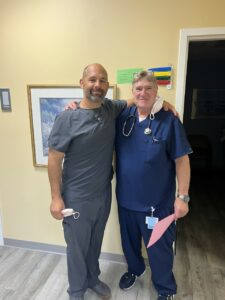 Robert Restaino, Family Medical Associates, Manchester, was recognized for his patient comment "Nurse Bob was very professional and friendly."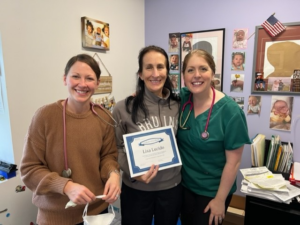 Lisa Lucido, Cape Ann Pediatricians, was recognized for her patient comment "Special shoutout to Lisa Lucido for always making my daughter excited to go back to the doctor's office for prizes!"
Please let us know if you would like to nominate a team member in your practice or another practice for the recognition program. 
We will deliver gift cards to the winners each month, and they will be announced here in the newsletter. Please be sure to look for the new winners in next month's issue!