Keeping Care Local
The Referral Management Department serves as a resource to our Northeast PHO (NEPHO) membership by providing administrative simplification in referral processing while maintaining health plan specific contractual obligations. We offer the full range of referral management services to interested practices.
The Referral Team also processes out of PHO network referrals for all of our providers. One of our goals is to retain care within the PHO referral circle.
We work closely with our Medical Director, Dr. Joseph Peppe, and our providers and their office staff to re-direct out of PHO referral requests to in-PHO providers. Through education and adherence to referral management protocols, we help keep care local and promote both provider and patient satisfaction.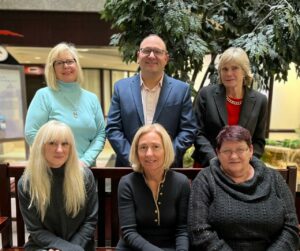 Top row, left to right: Michelle Costanza, Joseph Peppe, MD, Deirdre Bamford-Mulkern
Bottom row, left to right: Stacey Begonis, Ann Cabral, Jean Servizio
The Referral Team is here to help you and your patients:
Click here to print