---
NEW PROVIDERS

Raghu Amaravadi, MD
Beverly Radiological Associates
85 Herrick Street
Beverly, MA 01915
(P) 978-922-3000 (F) 978-927-3534
---
Eileen Delaney,  MD
Beverly Radiological Associates
85 Herrick Street
Beverly, MA 01915
(P) 978-922-3000 (F) 978-927-3534
---
Susan Peltz,  MD
Beverly Radiological Associates
85 Herrick Street
Beverly, MA 01915
(P) 978-922-3000 (F) 978-927-3534
---
Omar Badri, MD
Northeast Dematology Associates
138 Conant Street 1st Floor
Beverly, MA 01915
(P) 978-691-5690 (F) 978-691-5693
---
Robert Spang, MD
Sports Medicine North
1 Orthopedics Drive
Peabody, MA 01960
(P) 978-818-6350 (F) 978-818-6355
  NEWS FROM NEPHO  
AUGUST 2019 EDITION
---
IN THIS ISSUE:



---
---
REMINDER: OPEN MEETING II
Place: Beverly Hospital Lecture Hall-Beverly, MA 01915
RSVP: Lisa.M.Driscoll@Lahey.org
For your convenience we will be conducting the same presentation at 3 sessions.
THURSDAY
OCTOBER 3
12:30 P.M.
WEDNESDAY
OCTOBER 9
7:00 A.M.
TUESDAY
OCTOBER 22
5:30 P.M.
Video Conferencing is available for all meetings with the exception of October 9th @AGH.  Attendance at more than one Open Meeting will not provide additional attendance credit.
2019 PCP ATTENDANCE POLICY
2019 SCP ATTENDANCE POLICY
---
PRACTICE CHANGES/UPDATES

---
Benjamin Hamar, MD of Essex County OB/GYN and Beverly Hospital Maternal Fetal Medicine has resigned

 

Raymond Kelly, MD of Lahey Urgent Care has resigned
OFFICE MANAGER MEETING – Click here for agenda
Date: September 11, 2019 @12:00 (noon)
Place: 500 Cummings Center – Suite 6500
Good Harbor Conference Room
Beverly, MA  01915
RSVP: Judith.O'Leary@Lahey.org or 978-236-1739
---
NP PA  MEETING — CME approved
Date: September 18, 2019 @12:00 (noon)
Guest Speaker – Dr. Amalanan Jha
Essex Surgical Associates
Place: 500 Cummings Center – Suite 6500
Good Harbor Conference Room
Beverly, MA  01915
RSVP: Judith.O'Leary@Lahey.org or 978-236-1739
---
NEW PHYSICIAN ORIENTATION
Date: September 25, 2019 @5:30 p.m.
Place: 500 Cummings Center – Suite 6500
Good Harbor Conference Room
Beverly, MA  01915
RSVP: Alycia.Messelaar@lahey.org or 978-236-1784
---
IPA / POD MEETINGS SUMMARY

---
Follow up
The question of Chlamydia screening cost to the patient was raised at Pediatric and OB-Gyn meetings.
The cost to patient is based on payer reimbursement rates and varies greatly between facilities, with the NHC tests likely to be most cost-effective to patients.
A summary chart presenting this data was shared.
Medicare 2017 and 2018 Projections
The preliminary 2018 Quality score of 78.55% is similar to 2017 (77.58%).
2018 performance trending for Medical Expenses is 3.7% higher compared to same period last year.
Expenses related to inpatient facility, rehab and SNF are decreased compared to last year, though unit costs are up in many categories off-setting utilization improvements partly or completely.
2018 Q4 performance projection using OPTUM IBNR and Risk Adjusted Benchmark shows a network surplus after shared saving with Medicare, adjustment for quality score, and Medicare sequestration adjustment.
LCPN Clinical Pharmacist Specialist Patrick McCarthy was introduced as a resource to help with ACO patients.
LCPN Pharmacy Team shared their contact information, 2019 team goals, and referral criteria.

Example of an appropriate referral is to find less costly medication alternative/covered medication for patients.
Pharmacy
The Asthma Medication Ratio quality measure performance was reviewed. Currently we are at 91% of patients having equal ratio of controllers to rescue medications.
There is a savings opportunity in using generic inhalers which can benefit patients due to lower copays.
If the script is written with generic name, the pharmacy will automatically dispense the lower cost, covered agent for the patient. A screenshot of how the generic names look on EPIC was shared.
A reference sheet was provided which shows the 12 different inhaler delivery types that are available with links for instructional videos on correct technique. This information is available on the PHO website and in the Pharmacy section of the PHO newsletter.
Quality
Quality performance was reviewed from 2016 through projected 2018. The number of measures in greatest compliance are reduced rather than increased.
A handful of measures show progressive improvement year over year. The same performance is not an option for 2019.
The next step is to look at current interventions by measure to gauge effectiveness of each. There is a need to develop workflows that will improve and sustain performance.
Updated Patient Integration Reports by PCP were distributed reflecting care that needs to be provided before year end.
Patient Experience
Updated star ratings for timeframe January 2018 through May 2019 were provided and will be distributed at pod meetings along with patient feedback.
Transparency pilot is currently in paper process phase; expecting to go live in fall.
Informational
Logistics regarding the upcoming NP/PA meeting in September were shared.
Rapid Meeting Assessment
Meeting attendees were asked to complete a Rapid Meeting Assessment to gather feedback on content, discussion, materials, and structure of the meeting.
---
PAYOR UPDATES
---
Commonwealth Care Alliance (CCA)
Commonwealth Care Alliance (CCA) is partnering with a new vendor, Performant Recovery, Inc. to review provider claims.  Performant offers claim review services that include the identification and resolution of underpayments and overpayments due to erroneous claims coding and/or incorrect claim adjudication.
If a need to review claims is identified by Performant, it is important that CCA providers follow instructions in the Performant letters requesting medical records.   Performant will follow these timelines in the letter based on CCA's guidance.  Providers who do not follow the instructions risk the possibility of claims being retracted for "non-response", as this is considered an agreement with the review findings.
Throughout an actual review process, Performant will offer specialized support.  If you have any questions, please contact CCA Provider Services at (866) 610-2273.
One of the most important Best Practice Advisories or BPA's in Epic is Hypertension. The BPA will fire for the rooming staff or medical assistant and look like this.
What we are finding is that when the provider is taking the second reading, the second BP is often not entered into Epic.
Please contact Stephanie Cunningham at Stephanie.K.Cunningham@Lahey.org or call 978-236-1753 if you would like more information on ways to improve capturing this information.
Pharmacy – Respiratory Updates / Medication Safety Alert
Asthma Medication Ratio
Great news! Through June 2019 NEPHO performance on this measure has a score of 5.0. Greater than 92% of patients with persistent asthma are dispensed a controller for every reliever. Last year at this time NEPHO performance was similarly exceeding the 86% target, however performance declined towards year-end to 79.5% (score of 2.75).
Bottom Line: Encourage ordering and refill of controller each time reliever (albuterol) is requested or filled.
Cost Savings Opportunities
Finally, generic inhalers are available for albuterol (ProAir and Proventil) and combination fluticasone/ salmeterol (Advair) which are less expensive and may have lower copays for patients. Currently, generic albuterol inhalers are about $15 less per inhaler and fluticasone / salmeterol inhalers are between $50 and $250 less.  NEPHO could realize a potential savings of $392,000 if all inhalers were switched to the generic alternatives.
Best advice is to order inhalers generically to allow pharmacy to fill per health plan coverage. Consider generic AirDuo for CASH paying patients; ~ $51 with Good Rx coupon. This will prevent calls to practices for changes / edits.  See below for ordering via Epic:
Generic Ordering of Advair Discus Product:
ID 17837: albuterol HFA (VENTOLIN, PROAIR, PROVENTIL) aerosol inhaler
90 mcg/actuation
ID 104564: fluticasone-salmeterol (ADVAIR DISKUS)
100-50mcg/inh
ID 104565: fluticasone-salmeterol (ADVAIR DISKUS)
250-500mcg/inh
ID 104566: fluticasone-salmeterol (ADVAIR DISKUS)
500-50mcg/inh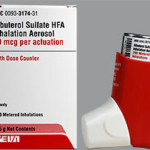 OR   Generic Ordering of AirDuo Respiclick Product:  ~ $51 per inhaler CASH with Good Rx Coupon
ID 182695: FLUTICASONE 55 MCG-SALMETEROL 14 MCG/ACUTATION BREATH ACTIVATED PDW
ID 182696: FLUTICASONE 113 MCG-SALMETEROL 14 MCG/ACTUATION BREATH ACTIVATED PDW
ID 182697: FLUTICASONE 232 MCG-SALMETEROL 14 MCG/ACTUATION BREATH ACTIVATED PDW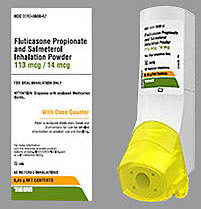 Inhaler Education
One goal of management of asthma and/or COPD is to assure patients use inhalers correctly and as directed if prescribed. Currently there are 12 different inhaler delivery types on the market and some of the new versions, Inhub, Respiclick etc., can be confusing for providers and patients.
In an effort to assist with patient education, NEPHO has created a listing of instructional videos for patient or practice access. This list can also be accessed via www.nepho.org under  the "Quick Links" drop down menu.  In addition, a pharmacist is available to provide provider practice education by contacting Carol Freedman at carol.freedman@lahey.org
Do you know which inhalers can be used with a spacer? Metered Dose Inhalers (MDIs), such as albuterol (ProAir etc), Flovent HFA, Advair HFA, Dulera, Symbicort etc., are the only group of inhalers for which a spacer may improve inhalation of the medicine. MDI-breath activated, Dry Powder and Soft Mist inhalers do not require use of a spacing device.
Medication Safety Alert – August 2019
Focus on four new drugs: Xofluza, Aimovig, Ajovy, and Emgality
For questions or more information please contact Carol Freedman, NEPHO Pharmacy Manager at Carol.Freedman@Lahey.org or 978-236-1774
Reminder: For future advanced practitioners that join your practice, it is important to notify NEPHO.  This notification will prompt the enrollment department to add the provider to the database for future communications as well as add the provider to the BCBS Commercial contract.  Without notifying NEPHO, your practice will only receive state wide rates for these providers.
Please note: These advanced practitioners will need to be enrolled with BCBS Medicare Advantage product at the practice level, as NEPHO does not hold a BCBS Medicare Advantage contract that includes advanced practitioners.
Please send the following information to Alycia.Messelaar@Lahey.org  when new advanced practitioners join your practice.
Advanced Practitioner Name
NPI
D.O.B.
State License #
Federal DEA #
CAQH ID #
Board Certified Yes or No?
Advanced Practitioner preferred e-mail address
Start date at practice.
Thank you,
NEPHO Provider Enrollment Department
ICD-10 Clinical Modification (CM) 2020 Updates – Effective 10/1/2019
The ICD-10 CM changes and updates will be effective on October 1, 2019. The new changes include the following updates:
273 new codes
30 revised codes
21 deleted codes
1500 changes to complication or comorbidity/major complication or comorbidity (CC/MMC) designation
Most severity changes are downgrades
Areas that have significant changes include; pressure-induced deep tissue damage, acute versus chronic embolism and thrombosis, fractures of the facial bones around the eye, among other changes highlighted below:
2020 ICD-10 CM Coding Highlights:
Eye wall fractures. Sixty new acute fracture codes for closed and open fractures of the orbital wall surrounding the eye, specific to laterality and position around the eye. Example: New code S02.831B will report fracture of medial orbital wall right side, initial encounter for open fracture.
Deep tissue injuries. A total of 25 new codes are proposed to be added to specifically capture deep tissue injuries, such as L89.026 (Pressure-induced deep tissue damage of left elbow) and L89.156 (Pressure-induced deep tissue damage of sacral region). Deep tissue injuries currently are coded as unstageable pressure ulcers, which is incorrect by definition, according to the proposal.
Atrial fibrillation. Four new codes in the I48.- category are proposed to capture different forms of persistent and chronic atrial fibrillation, such as I48.11 (Longstanding persistent atrial fibrillation) and I48.21 (Permanent atrial fibrillation).
Phlebitis and thrombophlebitis. Eight new codes for phlebitis and thrombophlebitis that will allow more specific coding for laterality and location, such as I80.241 (Phlebitis and thrombophlebitis of right peroneal vein).
Embolism and thrombosis. New codes to allow reporting of chronic embolism and thrombosis of the peroneal vein and calf muscular vein as well as new codes for acute embolism and thrombosis of those veins. The codes will also be selected based on laterality. For example: Code I82.451 describes acute embolism of right peroneal vein, while I82.562 describes chronic embolism and thrombosis of left calf muscular vein.
Poisoning, adverse effects and underdosing. The proposed update includes 18 new T codes for poisoning, adverse effects or underdosing of multiple unspecified drugs, medicaments and biological substances. You'll use the appropriate seventh character to describe the encounter: initial, subsequent or sequela. The new poisoning codes are divided into four causes: accidental, intentional, assault and undetermined. For example, T50.913S (Poisoning by multiple unspecified drugs, medicaments and biological substances, assault, sequela).
Heatstroke. Summer will be over when the new codes go live, but you'll have options for heatstroke and sunstroke (T67.01X-), exertional heatstroke (T67.02X-), and other heatstroke and sunstroke (T67.09X-).
Legal intervention. There will be 75 new codes for injuries sustained during a legal intervention. Many of the additions are to be used to indicate that an unspecified person was injured. For example, Y35.319A (Legal intervention involving baton, unspecified person injured, initial encounter). The current code set describes injuries to law enforcement officers, bystanders or suspects. In addition, there are new codes for injuries caused by conducted energy devices, such as tasers. Codes Y35.831A-Y35.839S describe injuries to law enforcement officials, bystanders, suspects or unspecified individuals.
New Z codes. You'll find a handful of new codes for factors influencing health status and contact with health services. Proposed codes include Z01.020 (Encounter for examination of eyes and vision following failed vision screening without abnormal findings), Z22.7 (Latent tuberculosis), six new personal history of in-situ neoplasms codes (Z86.002-Z86.007) and one code for the presence of a neurostimulator (Z96.82).
Revisions:
Codes under T40.906– (Underdosing of unspecified psychodysleptics) and T40.996– (Underdosing of other psychodysleptics) were revised to include the term "[hallucinogens]" in the title.
Codes under T44.1×6– (Underdosing of other parasympathomimetics) were revised to include the term "cholinergics" in the title.
Codes M77.51 (Other enthesopathy of right foot) and M77.52 (Other enthesopathy of left foot) were revised to include the terms "and ankle" in the title.
| | | | |
| --- | --- | --- | --- |
| ICD-10-CM chapter | New | Revised | Invalid |
| Chapter 1: Certain infectious and parasitic diseases (A00-B99) | 0 | 3 | 0 |
| Chapter 2: Neoplasms (C00-D49) | 0 | 0 | 0 |
| Chapter 3: Diseases of the blood and blood-forming organs and certain disorders involving the immune mechanism (D50-D89) | 5 | 0 | 1 |
| Chapter 4: Endocrine, nutritional and metabolic diseases (E00-E89) | 0 | 0 | 0 |
| Chapter 5: Mental, Behavioral and Neurodevelopmental disorders (F01-F99) | 0 | 0 | 0 |
| Chapter 6: Diseases of the nervous system (G00-G99) | 0 | 2 | 0 |
| Chapter 7: Diseases of the eye and adnexa (H00-H59) | 0 | 0 | 4 |
| Chapter 8: Diseases of the ear and mastoid process (H60-H95) | 1 | 0 | 0 |
| Chapter 9: Diseases of the circulatory system (I00-I99) | 30 | 2 | 2 |
| Chapter 10: Diseases of the respiratory system (J00-J99) | 0 | 1 | 0 |
| Chapter 11: Diseases of the digestive system (K00-K95) | 0 | 0 | 0 |
| Chapter 12: Diseases of the skin and subcutaneous tissue (L00-L99) | 25 | 0 | 0 |
| Chapter 13: Diseases of the musculoskeletal system and connective tissue (M00-M99) | 0 | 6 | 0 |
| Chapter 14: Diseases of the genitourinary system (N00-N99) | 3 | 1 | 0 |
| Chapter 15: Pregnancy, childbirth and the puerperium (O00-O9A) | 0 | 0 | 0 |
| Chapter 16: Certain conditions originating in the perinatal period (P00-P96) | 0 | 0 | 0 |
| Chapter 17: Congenital malformations, deformations and chromosomal abnormalities (Q00-Q99) | 31 | 0 | 10 |
| Chapter 18: Symptoms, signs and abnormal clinical and laboratory findings, not elsewhere classified (R00-R99) | 3 | 1 | 1 |
| Chapter 19: Injury, poisoning and certain other consequences of external causes (S00-T88) | 87 | 9 | 3 |
| Chapter 20: External causes of morbidity (V00-Y99) | 75 | 3 | 0 |
| Chapter 21: Factors influencing health status and contact with health services (Z00-Z99) | 13 | 2 | 0 |
| Total | 273 | 30 | 21 |
Please contact Shawn Bromley at  Shawn.M.Bromley@Lahey.org or 978-236-1704 with questions regarding new ICD-10 CM changes and updates or if you would like to schedule an onsite overview meeting.
---
PATIENT EXPERIENCE COMMENTS

---
Addison Gilbert Primary Care – 298 Washington Street, Gloucester
Dr. Victor Carabba is an exceptional and knowledgeable physician.  He treats his patients like they were his family, never rushed, always attentive.
---
Beacon Family Medicine – 130 County Road, Ipswich
Dr. Erin Heiskell and the staff provide service and care that is exceptional!
Beacon Family is a wonderful, well run office. Dr. Aimee Hromadka and all the staff are polite, efficient, welcoming.
Dr. Hromadka is professional, but still easy to talk to. I never feel rushed.  She is empathetic and has helped me enormously with my medical problems over the years.  I can't recommend her highly enough!
---
 Cape Ann Pediatrics – 298 Washington Street, Gloucester 
Dr. Thomas Carbone and Dr. Jeffrey Stockman are amazing, friendly, helpful, professional and above all have my child's best interest in mind. The staff is exceptional!
---
 Lahey Primary Care, Beverly – 100 Cummings Center
I have always given Dr. Pierre Ezzi and his whole team from receptionists to nurses, doctors etc, the highest praise! 
Lahey Primary Care, Beverly – 30 Tozer Road
I am very happy to have Dr. Susan DeLuca as my doctor. She is so caring, happy and loving. 
Lahey Primary Care, Beverly – 900 Cummings Center
Dr. Andrew Lenhardt is the best! He listens to all my concerns and is always willing to help expedite my care.
---
Lahey Primary Care, Danvers  – 480 Maple Street
Dr. Kristina Jackson is very compassionate and thorough. Dr. Jackson has been my PCP for more than
25 years – very kind.
---
Lahey Primary Care, Gloucester – 298 Washington Street
Dr. Amy Esdale always takes the time to listen and her conclusions/recommendations are always right on!
---
Lahey Primary Care, Hamilton  – 12 Railroad Avenue
I've had a very good experience with Dr. Hugh Taylor! He is very INTELLIGENT and very KIND!
Dr. Laurence Gordon is the best primary care doctor I've ever had!
---
Lahey Primary Care, Manchester – 195 School Street
Dr. Harlow Labarge has been an exceptional physician. Always reliable, caring and smart.
This was my first introduction to Dr. Nicholas Avgerinos. He made a very good first impression.  He is respectful and competent.
---
Thomas Pearce, MD –  279 E Main Street, Gloucester
Dr. Thomas Pearce is outstanding – every time I have seen him, he is a wonderful doctor and person. Always caring and willing to talk with me or my family.  He is one of a kind.  Excellent doctor!
---
Patton Park Medical – 42 Asbury Street, Hamilton
Every person who works for Dr. Michael Edwards is professional, kind and respectful.  Just great!
The Northeast PHO recognizes colleagues who provide a positive experience for our patients, help us keep care local and meet our quality targets.
This month's winners are:
Judy Linn, Thomas Pearce, MD, was recognized for her excellent patient outreach efforts scheduling needed appointments.
Francesca Genovese, Garden City Pediatrics, was recognized for her outstanding patient comment "Francesca is a pleasure to have a visit with".  She is super sweet and a very special member of the staff at GCPA!
We appreciate their efforts in supporting the PHO goal to provide high quality, community health care.   We will deliver gift cards to the winners each month, and they will be announced here in the newsletter.
Be sure to look for the new winners in next month's issue!