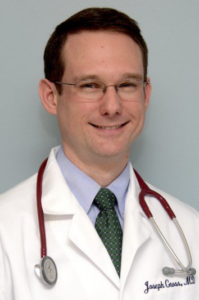 Joseph Gross, M.D.
Dr. Joseph Gross is a board-certified specialist in Infectious Disease practicing Infectious Disease and Travel Medicine. He completed his fellowship in Infectious Disease and residency in Internal Medicine at The George Washington University, earned his M.D. at the Northwestern University Feinberg School of Medicine and his B.A. in biology at the University of Rochester.
Dr. Gross began his career at the Anna Jaques and Merrimack Valley Hospitals, with outpatient practices in Newburyport and Haverhill. He practiced with Pentucket Medical Associates for six years before founding his solo private practices, River Valley Infectious Disease Specialists and River Valley Travel Medicine until 2018, when he joined the medical staff of Beverly Hospital. He currently is seeing inpatient consults there and at Addison Gilbert Hospital, and he sees adult outpatients at Beverly Hospital, the Lahey Outpatient Center in Danvers and at North Shore Primary Care in Danvers. He manages infections of any organ system, and his professional interests also include tick borne infections, HIV and management of Hepatitis C. In addition, he provides travel consultation services at North Shore Primary Care. Telehealth visits are also accommodated when necessary.
He is a native of Massachusetts, having grown up in Acton, and he now lives in Newburyport with his wife and two children. He is an avid runner year-round and has completed two marathons. During the winter he is a close follower of the Bruins, while spring through fall he can be found surfcasting for striped bass from the shore of Plum Island.
Lahey Infectious Disease, Beverly
85 Herrick Street Beverly, MA  01915
Lahey Outpatient Center, Danvers
480 Maple Street Danvers, MA  01923
Addison Gilbert Hospital
298 Washington Street 4th FL Gloucester, MA  01930
Phone: 978-816-3100