NEPHO Health Plan Settlement Timeframe: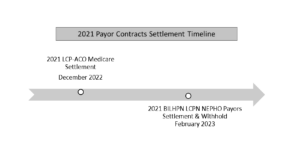 Plan Contracts:
BILHPN
Blue Cross Blue Shield (BCBS)




Harvard Pilgrim Health Care (HPHC)

Cigna
LCPN
Tufts Health Plan (THP)

AllWays Health Partners

UniCare
LCP-ACO
Medicare ACO

MassHealth ACO
NEPHO
Boston Medical Center (BMC)

Commonwealth Care Alliance (CCA)

Fallon

Tufts Health Public Plans

Tufts Medicare Preferred (TMP)
Settlements Payment Details:
Settlement distribution for 2021 BILHPN, LCPN and NEPHO (except TMP) payor contracts is expected in February, 2023. Excess operational and performance withhold is expected to be returned concurrently with the 2021 settlement in February, 2023.

2021 NEPHO TMP contract will not be in a surplus; therefore a settlement is not expected in 2022.

2021 LCP-ACO Medicare Settlement is expected to be distributed prior to December 31, 2022.
Minimum Requirements:
NECoMG sets certain minimum requirements of its physicians, in order to participate in payor contract settlements.  Click here to be directed to the current year's requirements.