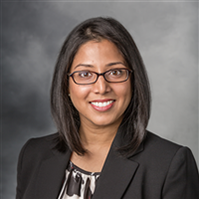 Specialized Pediatric Eye Care is excited to announce Poonam Doshi, M.D. has joined the practice!
Click here to view Dr. Doshi's virtual video
Dr. Doshi is a native Texan and a recent transplant to Boston, MA.  She graduated from high school with honors and went on to attend the prestigious Business Honors Program at The University of Texas in Austin, where she graduated with a degree in both Business Honors and Finance.  She later attended medical school at The University of Texas Medical Branch in Galveston, where she was recognized for her compassionate care and was inducted into the Gold Humanism Honor Society.  Following her internship in Galveston, Dr. Doshi explored the Midwest while she completed her residency training at the Kresge Eye Institute, Wayne State University in Detroit, Michigan.  She pursued a year of fellowship training in Pediatric Ophthalmology and Adult Strabismus with some of the current thought leaders in the field at the highly respected Eugene and Marilyn Glick Eye Institute, Indiana University Medical Center in Indianapolis, Indiana.
After being away from Texas for a few years, Dr. Doshi returned to her home state to quench her desire to teach.  She joined Baylor Scott & White Hospital in Temple, TX and trained ophthalmology residents.  Dr. Doshi later joined Houston Eye Associates, where she was able to care for children in the same community that raised her.
Dr. Doshi recently moved to Boston, MA and is excited to call Boston home.  She absolutely loves New England summers and fall foliage.
In May 2020, Dr. Doshi joined the spectacular team at Specialized Pediatric Eye Care. Together, Drs. Ledoux, Johnson and Doshi are navigating the waters of the COVID-19 pandemic and providing care using a combination of telemedicine and in-office visits.  Specialized Pediatric Eye Care continues to offer full service pediatric ophthalmology and optometric care including evaluations for: failed vision screenings, refractive error, pediatric cataract and glaucoma, premature infants, and adults desiring treatment for misaligned eyes and/or double vision.  Dr. Doshi has a special interest in caring for children with strabismus and amblyopia and infants with nasolacrimal duct obstructions.
Dr. Doshi is certified by the American Board of Ophthalmology.  She is a Fellow of the American Academy of Ophthalmology as well as an active member of the American Association of Pediatric Ophthalmology and Strabismus.  She has participated in ophthalmology: research, community vision screenings, and international missions.
While outside of the office, Dr. Doshi enjoys spending time with her family and friends, traveling, salsa dancing and hopes to get back into road cycling.