The Northeast PHO recognizes colleagues who provide a positive experience for our patients, help us keep care local, meet our quality targets and support their colleagues.
This month's winners are: 
Kathleen "Kat" Wear, BILH Primary Care, Beverly, for a patient comment which read: "The staff person that took my vitals and got me situated in the exam room was polite, friendly, knowledgeable and caring. A very pleasant experience I was completely relaxed."
Michaela Friesth-Peters, Blackburn Primary Care, for proactive collaboration with local ophthalmologist to schedule eye exams for diabetes patients.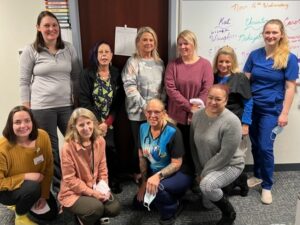 Shown in Photo – Left to Right Front Row: Emma Henry, Ellen Kenyon, Kat Wear, Melissa Ward
Left to Right Back Row: Courtney Brutto, Kim Luna, Annmarie Wonson, Amy Knight, Carol Addorisio, Christine Whitehair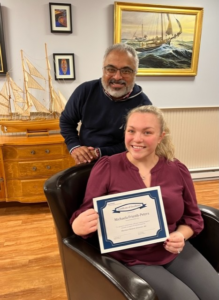 Dr. Jay Isaac and Michaela Friesth-Peters