---
PRACTICE RECOGNITION

---
The Northeast PHO recognizes colleagues who provide a positive experience for our patients, help us keep care local, meet our quality targets and support their colleagues.
This month's winners are:
Jamie Panagopolos, Garden City Pediatric Associates, was recognized for collaborating with the NEPHO Quality team to improve care for patients. 
Jessica Larson and Brittany Quigley, Beth Israel Lahey Health Primary Care, Beverly, were recognized for outstanding support and collaboration with the NEPHO Quality Team during the Evening Retinal Scanner Clinic. 
The entire team at Beth Israel Lahey Health Primary Care, Beverly was recognized for their patient experience comment: "It is an amazing experience every time, both how you are treated and the medical knowledge and plan for you as a patient to reach the ultimate health possible, the plan is customized to you and created as a team between the doctor and patient, as well as continually reviewed and/or changed to ensure you're always receiving the best care. Dr. Lendhart and his whole medical office have been invaluable to me and my son (the better my health the better I can be as a mom, and they're always so good to him when he comes with me to my appointments). It sounds corny but they really make it feel like family or a small community environment where they only want the best for you :). Thanks :)"
The Beverly Medical Associates team was recognized by a thankful patient. The patient's thank you card said: "Dr. Shih and the entire staff, Thank you ALL for being so dedicated, compassionate, and caring. We reach out in our time of need and we are never turned away, but welcomed with great compassion. Your manner puts us at ease, we never feel alone, each one of you work tirelessly to get us to our heathiest outcome. Thank you for the excellent medical and physical care."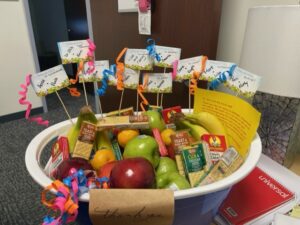 Goodie basket from a patient to Beth Israel Lahey Health Beverly, Beverly Medical Associates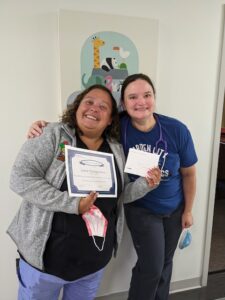 Jamie Panagopolos and Dr. Megan Weir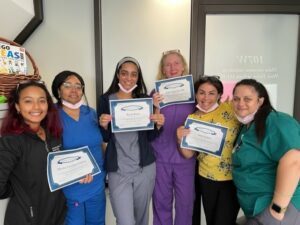 L to R: Albeliz Gomez, Eva Carabin, Rocia Rosa, June Figurido, RN, Ana Gomez and Lauren Pothier from Beth Israel Lahey Health Beverly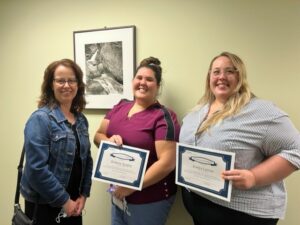 L to R: Laureen Veil, Lead Population Health Specialist, NEPHO with Jessica Larson and Brittany Quigley